Origin: Australia
Botanical name: Fusanus Spicatus Wood Oil, Vitis Vinifera (Grape) Seed Oil
Extraction method:  Steam distillation
Sandalwood (10%) essential oil originates from the wood of the slow growing, hemi-parasitic, long lived small tree which thrives where other resources struggle.
A warming balm for a sore heart and a restorative break from a non-stop hectic lifestyle, Sandalwood essential oil transports us to a meditative space. It instils a deeply nurturing sense of peace and calm.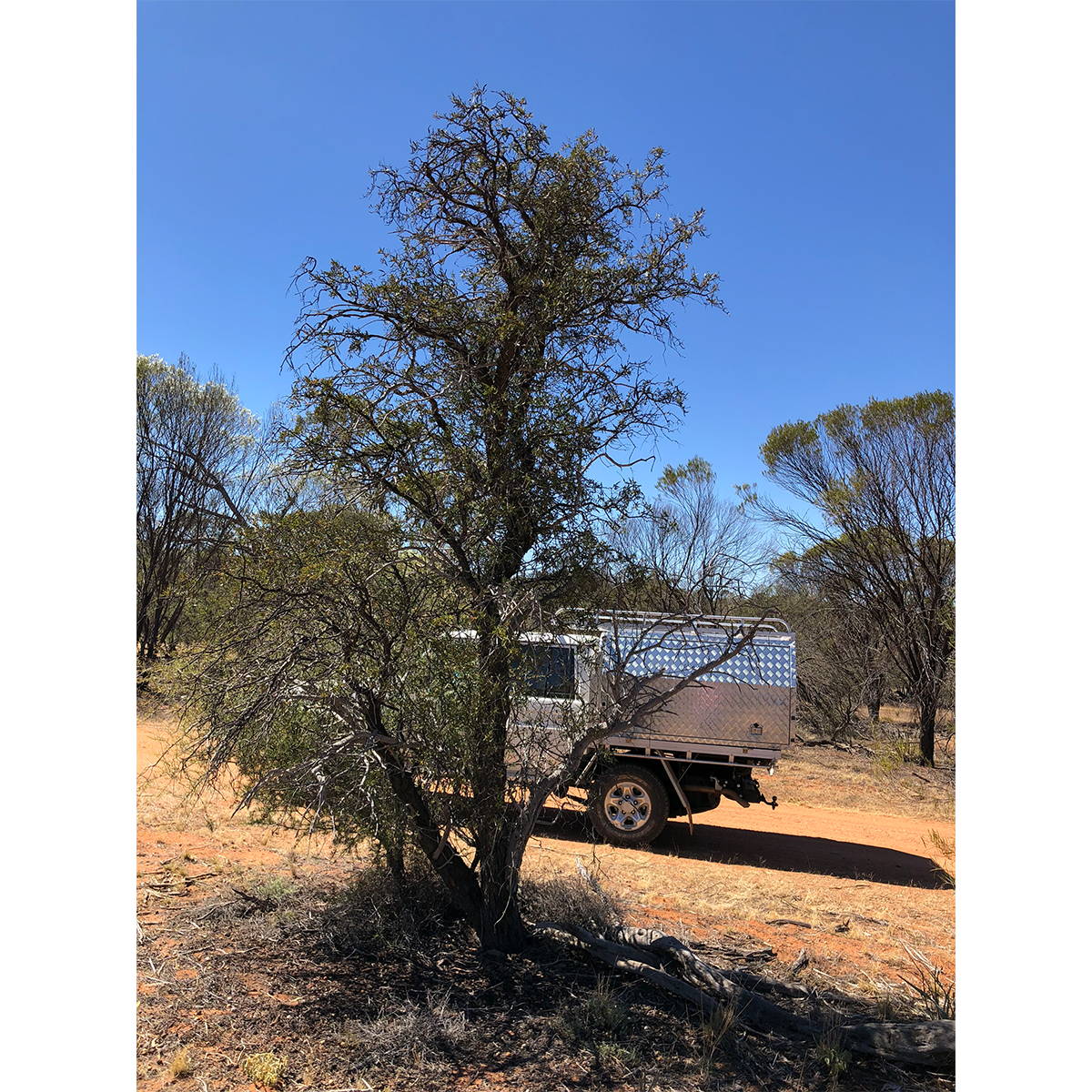 Where is Sandalwood (10%) Essential Oil from?
---
Our Sandalwood (10%) essential oil is sourced from Australia. Australian Sandalwood occurs naturally in the southern semi-arid and arid regions of Western Australia.
How is Sandalwood (10%) made?
---
Sandalwood (10%) essential oil is produced entirely by steam distillation. Wild Australian Sandalwood require long time
frames before reaching harvestable oil content. High grade Sandalwood does not develop until approximately 15-20 years, the oil will continue to develop and improve with the age of the tree.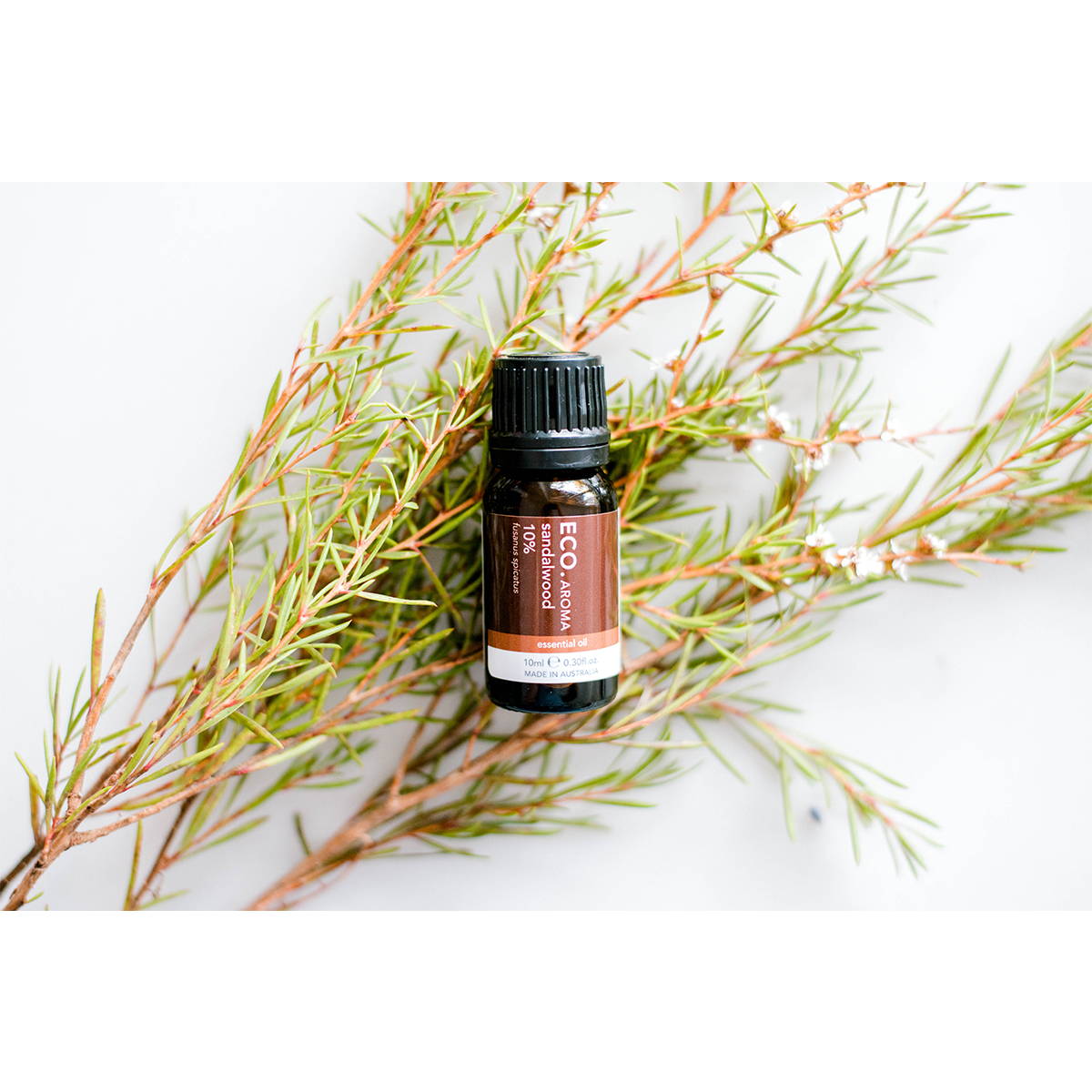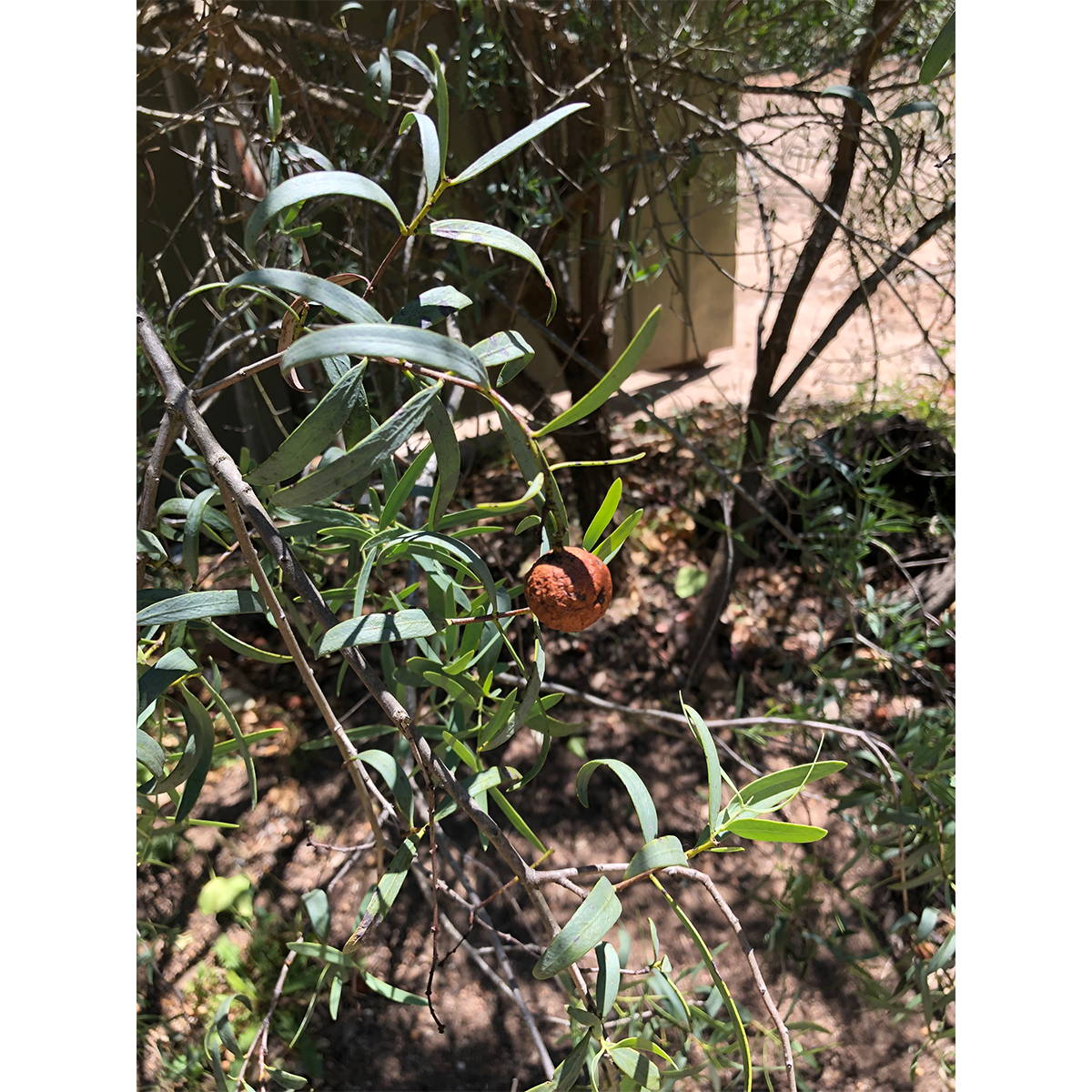 What are the benefits of Sandalwood (10%) Essential Oil?
---
Sandalwood essential oil has been shown to help boost the immune system and calm an irritated throat due to its antimicrobial properties. Antimicrobial means substance that kills or inhibits the growth of microorganisms but causes little or no damage to the host. Sandalwood essential oil may help relieve the symptoms associated with dry cough, sore throat and general chest infections due to its anti-infectious and decongesting properties. It has also shown to help treatment of bladder and urinary tract infections due to its diuretic properties - diuretic properties increase the flow of urine promoting removal of excess water, salts, poisons and accumulated metabolic products.
How to use Sandalwood (10%) Essential Oil
---
Our Sandalwood (10%) essential oil is diluted in grapeseed oil, we have done this to make Sandalwood more accessible to our community. Due to the timeframe involved for high grade Sandalwood essential oil, having a percentage diluted down in a carrier oil allows for a lower amount required and is a more affordable cost for our community.
Diffuser: Add 6-8 drops to a diffuser to help calm the mind, promote sleep and create a relaxing atmosphere.
Massage: Use a 2.5% dilution; 50 drops per 100ml carrier oil to help nourish the skin while calming the mind.
Face Massage: Add 1 drop in 5ml carrier oil and gently massage in to hydrate and nourish skin.
Compress: Add 2-3 drops in a disperant, such as oil, to the bath to create a relaxing atmosphere while nourishing your skin.
Steam Treatment: Add 2 drops of essential oil to a bowl of steaming hot water. Place your face close to the bowl and cover the back of your head and bowl with a towel to treap the aromatic vapours. Caution due to risk of burns or scalding and keep eyes close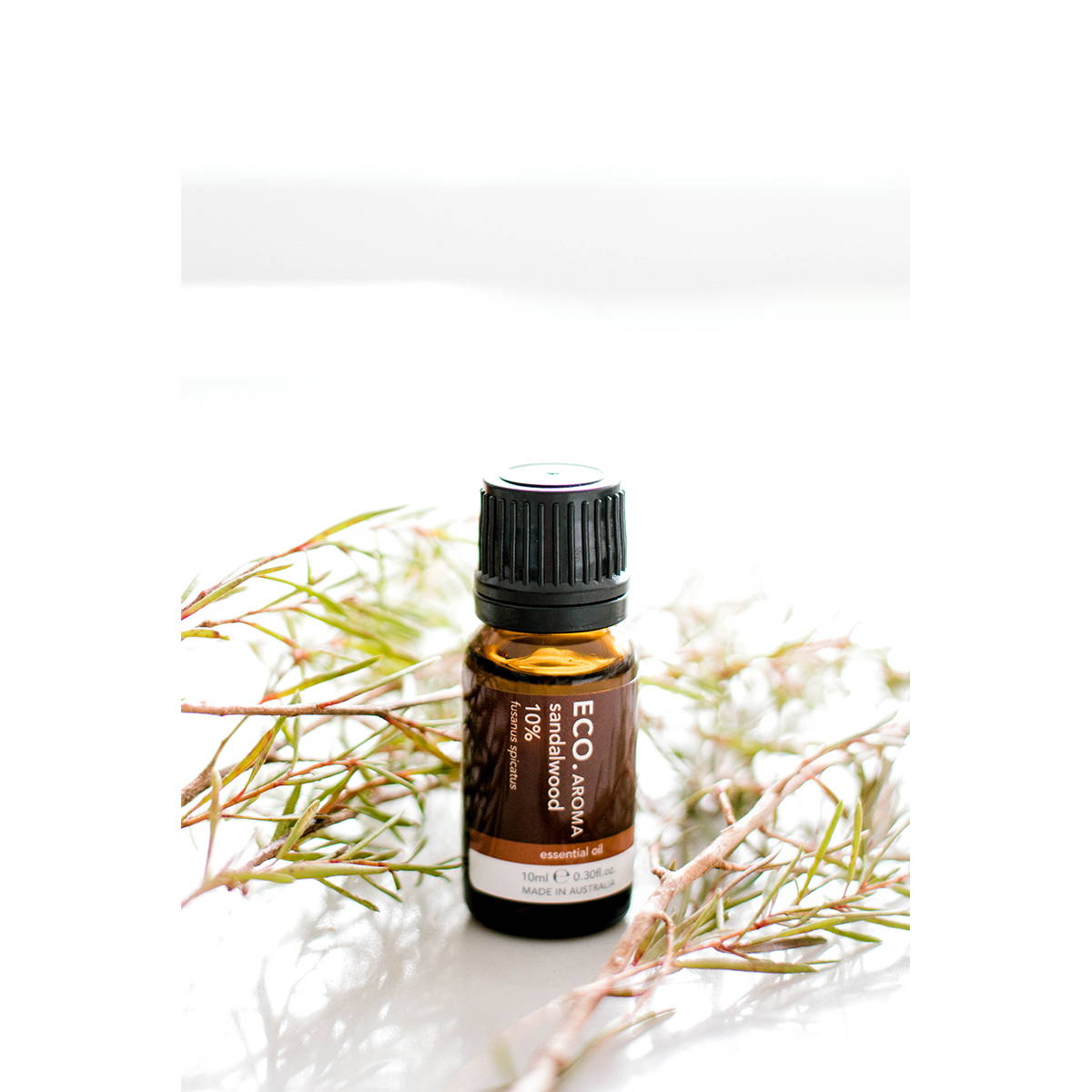 There is strong demand for Australian Sandalwood, both locally and overseas. The native
Sandalwood industry provides employment and income for the local community and contributes to
the growth and development of regional communities.
Currently, all commercial harvesting and regeneration of wild Australian Sandalwood trees are
managed by the Forest Products Commission of Western Australia (FPC). The wood is sustainably
harvested, and ongoing reforestation program is underway to revegetate Sandalwood populations in
the arid forests. This ensures that environmental, social, and cultural values are preserved.
One of my favourites!
"Such a beautifully understated and subtle oil that gives an earthy and woody tone to blends that is just so incredibly relaxing."
Ashleigh J. Australia
Shop value kits with Sandalwood (10%) Essential Oil
Author: Georgia Doherty
Marketing Assistant
Georgia is the Marketing Assistant at ECO. Modern Essentials. Georgia oversees the company's social media platforms, helps coordinate brand collaborations, is a leader for ECO.'s content creation + DIY recipes and manages ECO.'s affiliate program. She is a qualified Beauty Therapist with extensive Dermal Therapy qualifications, a Diploma in Training Design & Development with a Aromatherapy Practitioner Certificate. Georgia is passionate about leading a happy & healthy life and helping educate those around her.
Learn more here.