Peppermint Pure Essential Oil
Description

Fresh, invigorating & uplifting for the mind & body.

The beautiful, fresh and invigorating aroma of Peppermint essential oil is uplifting and therapeutic for the mind and body. It's cool, crisp scent imparts a sense of freshness, purity and cleanliness. Peppermint essential oil is so incredibly versatile and can be used for a range of purposes and is loved by beginners and more experienced practitioners alike.

Size: 10ml / 0.34fl.oz

Blends well with: Basil, Geranium, Lavender Bergamot, Cedarwood, Cypress, Lemon, Lime, Pine, Rosemary and Marjoram.

Benefits

Uplifting, energising and invigorating.

Mental clarity.

May help to relieve muscle & joint pain.

May help reduce headaches.

Support digestive health.

Sinus relief.

May be useful for assisting with sunburn, rashes and itchy skin when used in a very low dilution.
Learn more about Peppermint oil

Considerations: Peppermint oil is an antidote to homeopathic remedies and should be avoided during homeopathic treatment.

Learn more about Peppermint essential oil sourcing.
More information on the uses & benefits of peppermint essential oil.

Peppermint Essential Oil for headaches:

Headaches are painful and distracting and can be accompanied by feelings of nausea and brain fog. It is hard to concentrate when we have a bad headache. Peppermint oil can provide quick relief. Apply one or two drops neat to the base of the skull or back of the neck. The oil should provide a rapid analgesic action to sore muscles and the aroma will assist with any feelings of nausea or mental fatigue. Peppermint may also be applied via a cold compress either across the forehead or the back of the neck and changed as the compress warms up.

Peppermint Essential Oil for light-headedness:
The scent of Peppermint is very stimulating and energising. These properties can be useful to temporarily relieve light-headedness or dizziness. Simply inhale straight from the bottle or apply one drop to your collar. Light-headedness can occur for many reasons such as high stress levels, heat or dehydration. Consult a primary health care provider if these symptoms are persistent.

Peppermint Essential Oil for muscle pain:
When applied to the skin, Peppermint initially causes sensations of cooling, probably due to menthol occurring naturally in the essential oil. Peppermint is thought to cause blood vessels to expand which after some time may explain the eventual heating nature of the oil. Either way Peppermint essential oil is an excellent choice for the treatment of muscular aches and pains. For the short term treatment of a small area one to two drops of Peppermint can be applied neat to the area. For longer term treatment, Peppermint can be added to a massage blend either on its own or with essential oils like Eucalyptus, Kunzea, Lavender and Clove Bud.

Peppermint Essential Oil for body systems

Digestive:
One of the most powerful and well researched therapeutic benefits of Peppermint is its action on the digestive system. In fact, many pharmacy grade treatments for IBS contain Peppermint. Peppermint has analgesic, antispasmodic and toning properties that are valuable for the digestive system health. Peppermint is reported to support organs involved in the digestive process such as the stomach, gall bladder and liver. Peppermint also decreases intestinal spasming that can cause stomach pain, abdominal cramping, trapped wind and nausea. Gentle massage, inhalation or cold/ hot compress applied to the abdomen or lower back can relieve digestive symptoms.

Respiratory:
Peppermint essential oil is a wonderful remedy to ease symptoms of colds and other respiratory complaints. Peppermint has expectorant, analgesic and antiseptic properties and may help ease the symptoms of fever. Expectorants are used to help thin and expel excess mucus such as with thick phlegm and blocked sinuses. Antiseptics may help fight the germs causing the respiratory infection and analgesics can help ease sore, aching muscles during an illness. Peppermint can be diffused in the 'sick room' during the day but should be discontinued at night to encourage rest. A massage blend with Peppermint can be applied to the chest, neck and shoulders to help ease muscle pain and headaches caused by frequent coughing and being generally run down with respiratory complaints.

Mind:
The powerful aroma of Peppermint cuts through fatigue and mind fog like a knife. Peppermint helps push us across the finish line when we are exhausted. The stimulating aroma can help a driver to maintain focus on their way home after a tiring day at work or during a long car trip. Peppermint can be diffused in the study room to help a student stay alert and productive before a looming deadline or trying to cram before an exam. Mental clarity can be enhanced with Peppermint essential oil particularly when long term stress or many pressing issues are causing fatigue and indecisiveness. As we know, there is only so long that we can push ourselves beyond our reserves, so we need to make time for proper rest also. Peppermint can simply be inhaled straight from the bottle or used in a car or home diffuser to help us maintain focus, clarity and mental endurance.
How to use Peppermint Pure Essential Oil

Diffuser: Add 6-8 drops of essential oil to a diffuser.

Quick fix: A few deep inhalations from the bottle can help when you are at work, in the car or anytime you need a quick break.

Shower: Add 2-3 drops to the corner of the shower and enjoy the benefits of steam inhalation.

Foot Bath: Add 2 drops in a dispersant, such as oil, to a bowl of water and soak feet.
Massage: Use a 2.5% dilution; 50 drops in 100ml carrier oil to help ease aching muscles, reduce headaches and help with skin inflammation.

Compress: Add 2 drops of essential oil to a bowl of water. For treating inflammation or to cool down use cold to room temperature water. For aching tight muscles use warm to hot water. Agitate a face washer in the water, wring out excess moisture and apply washer to the affected area. Repeat two or three times as the compress cools down or warms up.

Steam Treatment: For the respiratory system, add 1 drop of essential oil to a bowl of steaming hot water. Lean over bowl and cover back of head with a small towel to trap aromatherapy vapours. Take slow deep breaths. Caution due to risk of burns or scalding and keep eyes covered during treatment as Peppermint steam may cause irritation.

Cleaning: Add up to 20 drops of Peppermint essential oil with 20 drops of your favourite citrus essential oil to a 100ml spray bottle. Fill with half Witch Hazel & distilled water, shake well and use as a surface disinfectant.
Ingredients

Source: India

Botanical name: Mentha piperita.
Frequently asked questions

Is this safe for use during pregnancy?
We do not recommend using Peppermint during pregnancy. Safe to use in the last few weeks of pregnancy and during labour if desired. Avoid using essential oils during the first trimester unless you are under the supervision of a qualified practitioner. See our full list of pregnancy safe oils in our FAQs.

Is this safe for children?
Not recommended for babies and small children due to its stimulating nature it may affect respiratory and nervous system.

Is this safe to use around pets?
Peppermint essential oil is not recommended for use around pets. See our full list of pet safe oils in our FAQs.

Can I ingest this oil?
Essential oils should not be taken internally unless you have consulted with a health professional or Aromatherapist first.
Shipping information

Shipping Estimates
Standard shipping (4-7 business days)
Express Post (1-2 Business Days)

Orders placed before 12pm AEST Monday-Friday will be shipped same day, orders placed after 12pm will be shipped the next business day.

100% Happiness Guarantee
Not happy? Simply return your products to us within 30 days and we will provide you a refund. Items damaged or faulty? We will arrange a free return and replacement or refund for you. If you have any further questions please don't hesitate to contact our team at enquiries@ecomodernessentials.com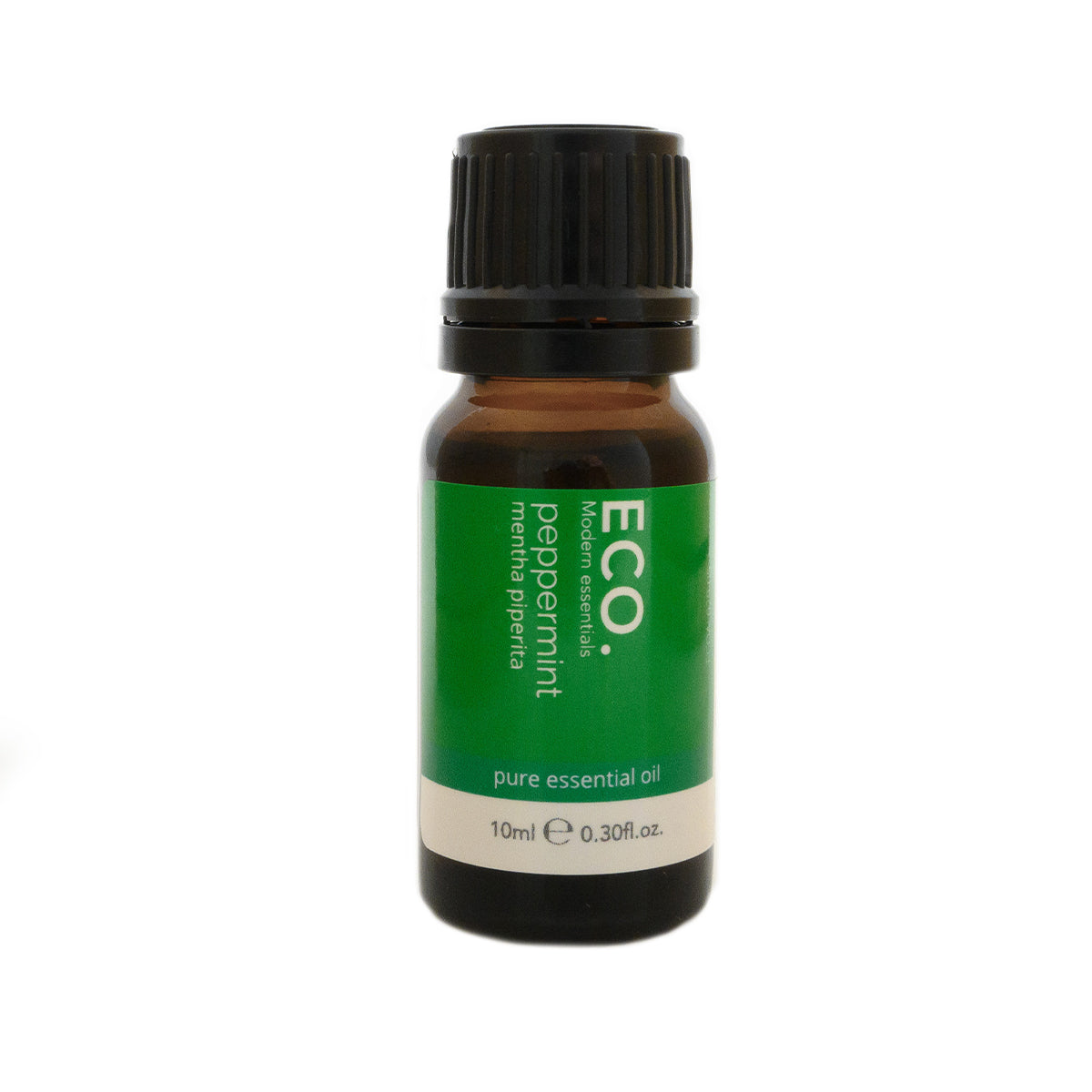 Peppermint Pure Essential Oil
Eco modern essentials
Sustainability practices
We are committed to making a difference in the world by continually improving and adapting our practices in everything we do. Our ingredients are harvested from ethical sources, ensuring social and environmental integrity.
We aim to simplify and minimise our packaging using recycled materials and soy based inks. We strive to work with local suppliers and partners to reduce our carbon footprint and support the local economy. We hope that by inspiring more individuals to appreciate our natural resources, practicing self-care and taking steps to reduce their ecological footprint on this earth, it will help drive change in the world.
Subscribe and save with ECO.
ECO. Oil Club
ECO. Oil Club brings you the team's current favourite aromatherapy essentials every 2 months. Receive up to 5 essential oils including an exclusive blend.
ECO. Ritual Box
Subscribe to the ECO. Ritual Box & you will receive a new box every 3 months (this is 4 times per year).