Fractionated Coconut Carrier Oil
Description

Hydrate your skin.

The fractionated Coconut Carrier Oil will allow you to use your essential oils in a new range of ways. Use coconut oil to hydrate the skin or apply essential oils to the body without irritation. Great for use as a body moisturiser, for massage or local topical application. Simply combine a few drops of your favourite essential oil to the carrier oil to use.

Size: 95ml / 3.21fl.oz
Benefits

Nourishing.

Versatile.

Help minimise skin irritation

Note: Fractionated coconut oil, also commonly called "liquid coconut oil" will remain in a liquid form, as opposed to regular coconut oil. This is because the long-chain-fatty acids (mainly Lauric Acid) causing the oil to solidify at colder temperatures have been removed. This will allow you to use it as a carrier oil in rollerballs, pump bottles or for body application at all times.
How to use Fractionated Coconut Carrier Oil

Massage: Add 1-2 drops of your favourite essential oil to 5ml of Fractionated Coconut Carrier Oil.

Rollerball: For a 2% dilution add up to 6 drops of your favourite essential oils to 10ml rollerball and fill with Fractionated Coconut Carrier Oil. For a 25ml rollerball add up to 15 drops of your favourite essential oils.
Ingredients

Cocos nucifera oil (Coconut Oil)
Frequently asked questions

Is this safe for use during pregnancy?
Yes this product is generally safe to use during pregnancy, contact your health practitioner with any concerns.

What happens if my skin reacts to this?
Even though ECO. products are natural, they still contain powerful plant ingredients. If skin reaction occurs, stop using the product and seek medical advice.

Is this safe for children?
Use this oil with care on children. Keep out of reach.

Can I ingest this oil?
We do not recommend you ingest this carrier oil.
Shipping information

Shipping Estimates
Standard shipping (4-7 business days)
Express Post (1-2 Business Days)

Orders placed before 12pm AEST Monday-Friday will be shipped same day, orders placed after 12pm will be shipped the next business day.

100% Happiness Guarantee
Not happy? Simply return your products to us within 30 days and we will provide you a refund. Items damaged or faulty? We will arrange a free return and replacement or refund for you. If you have any further questions please don't hesitate to contact our team at enquiries@ecomodernessentials.com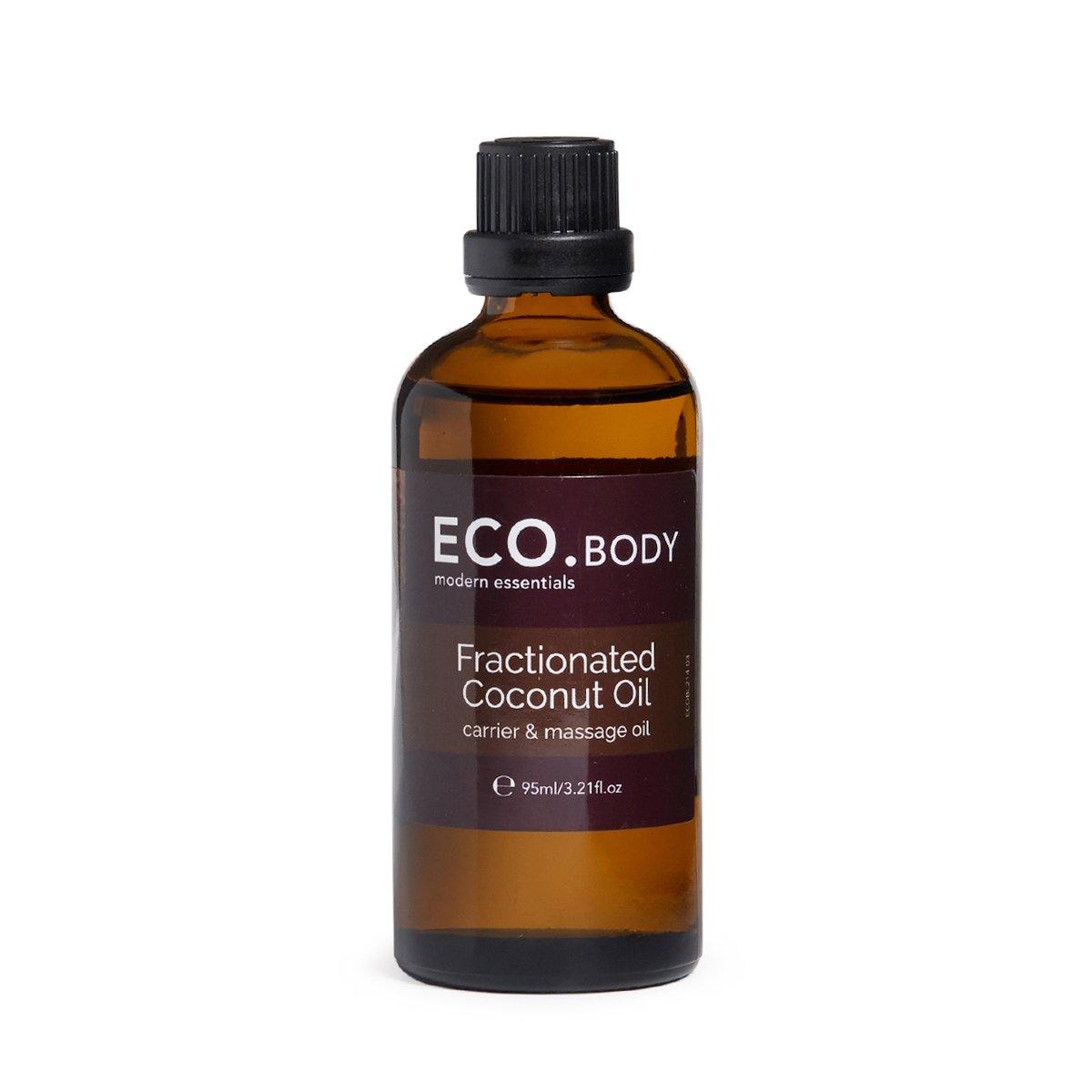 Fractionated Coconut Carrier Oil
Eco modern essentials
Sustainability practices
We are committed to making a difference in the world by continually improving and adapting our practices in everything we do. Our ingredients are harvested from ethical sources, ensuring social and environmental integrity.
We aim to simplify and minimise our packaging using recycled materials and soy based inks. We strive to work with local suppliers and partners to reduce our carbon footprint and support the local economy. We hope that by inspiring more individuals to appreciate our natural resources, practicing self-care and taking steps to reduce their ecological footprint on this earth, it will help drive change in the world.
Subscribe and save with ECO.
ECO. Oil Club
ECO. Oil Club brings you the team's current favourite aromatherapy essentials every 2 months. Receive up to 5 essential oils including an exclusive blend.
ECO. Ritual Box
Subscribe to the ECO. Ritual Box & you will receive a new box every 3 months (this is 4 times per year).