Wellness Mini Ritual Box
Description

What you need for Winter.

Wellness Mini Ritual Box – a carefully curated collection of tools and resources to elevate your wellbeing during the cozy Winter season. Designed to promote cleansing, resilience, and everyday wellness, this delightful box encompasses the power of rituals, essential oils, and nourishing recipes to enhance your self-care routine. 

Includes:
- Cleanse Ritual Booklet, Resilience Ritual Booklet, Everyday Wellness Ritual Booklet, Revitalising Roll-on Recipe Card, Hand Freshener Recipe Card, Resilience Oil Recipe Card, Peppermint Pure Essential Oil, Lime Pure Essential Oil, Ho Leaf Pure Essential Oil, Tea Tree Pure Essential Oil.

Size: 4 x 10ml / 4 x 0.34fl.oz

Benefits

Help strengthen your immunity against common cold & flu symptoms.

Natural alternatives.

Ritual Booklets & Recipe Cards included to help you along the way.

Learn new ways to use your essential oils.

Save when you buy in a bundle.
What's in my kit?

Cleanse Ritual Booklet, Resilience Ritual Booklet, Everyday Wellness Ritual Booklet, Revitalising Roll-on Recipe Card, Hand Freshener Recipe Card, Resilience Oil Recipe Card.

Peppermint Pure Essential Oil: The beautiful, fresh and invigorating aroma of Peppermint essential oil is uplifting and therapeutic for the mind and body. It's cool, crisp scent imparts a sense of freshness, purity and cleanliness. Peppermint essential oil is so incredibly versatile and can be used for a range of purposes and is loved by beginners and more experienced practitioners alike.

Lime Pure Essential Oil: The clean fresh scent of Lime essential oil is uplifting and energising. During times of confusion or indecision, the mentally stimulating properties of Lime clear the head and aid in decision-making.

Ho Leaf Pure Essential Oil: Ho Leaf essential oil has a sweet herb aroma which brings you comfort. It is prized for its support to the immune system traditionally being used for influenza and shingles. It may also help with stress and promote sleep.

Tea Tree Pure Essential Oil: Tea Tree oil (Melaleuca alternifolia) is an uplifting and stimulating essential oil. This versatile essential oil can also be used in cleaning products as an effective broad-spectrum disinfectant due to its antimicrobial action. Tea tree oil can also be added to DIY recipes for acne, hair treatments, and body wash.
How to use Wellness Mini Ritual Box

See your Ritual Booklets + Recipe Cards for ways to use.
Ingredients

Peppermint Pure Essential Oil: Mentha piperita

Lime Pure Essential Oil: Citrus aurantifolia

Ho Leaf Pure Essential Oil: Cinnamomum camphora

Tea Tree Pure Essential Oil: Melaleuca alternifolia
Frequently asked questions

Is this safe for use during pregnancy?
We do not recommend using Peppermint during pregnancy. Safe to use in the last few weeks of pregnancy and during labour if desired. Avoid using essential oils during the first trimester unless you are under the supervision of a qualified practitioner. See our full list of pregnancy safe oils in our FAQs.

Is this safe for children?
Peppermint is not recommended for babies and small children due to its stimulating nature it may affect respiratory and nervous system.

Is this safe to use around pets?
Peppermint essential oil is not recommended for use around pets. See our full list of pet safe oils in our FAQs.

Can I ingest this oil?
Essential oils should not be taken internally unless you have consulted with a health professional or Aromatherapist first.
Shipping information

Shipping Estimates
Standard shipping (4-7 business days)
Express Post (1-2 Business Days)

Orders placed before 12pm AEST Monday-Friday will be shipped same day, orders placed after 12pm will be shipped the next business day.

100% Happiness Guarantee
Not happy? Simply return your products to us within 30 days and we will provide you a refund. Items damaged or faulty? We will arrange a free return and replacement or refund for you. If you have any further questions please don't hesitate to contact our team at enquiries@ecomodernessentials.com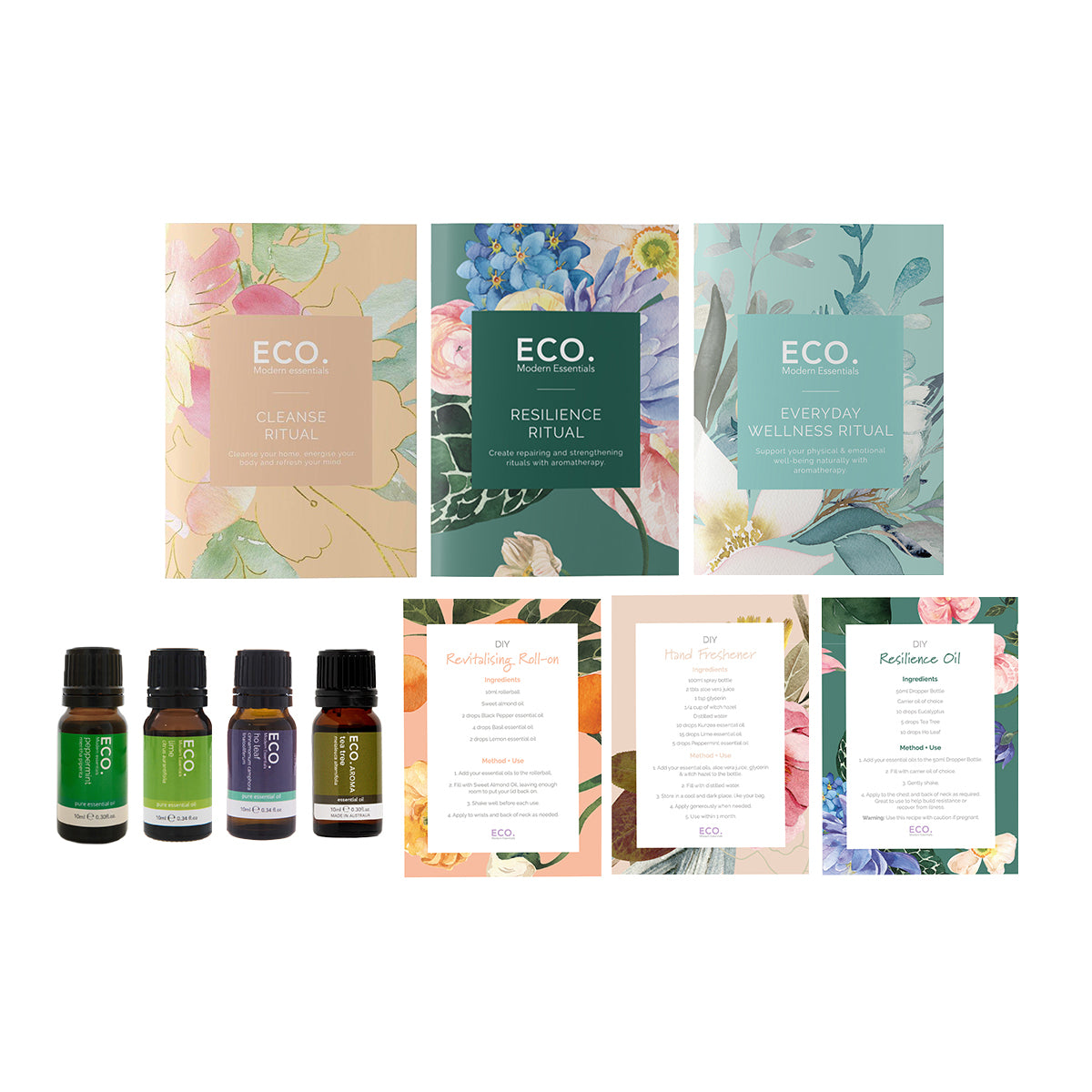 Eco modern essentials
Sustainability practices
We are committed to making a difference in the world by continually improving and adapting our practices in everything we do. Our ingredients are harvested from ethical sources, ensuring social and environmental integrity.
We aim to simplify and minimise our packaging using recycled materials and soy based inks. We strive to work with local suppliers and partners to reduce our carbon footprint and support the local economy. We hope that by inspiring more individuals to appreciate our natural resources, practicing self-care and taking steps to reduce their ecological footprint on this earth, it will help drive change in the world.
Subscribe and save with ECO.
ECO. Oil Club
ECO. Oil Club brings you the team's current favourite aromatherapy essentials every 2 months. Receive up to 5 essential oils including an exclusive blend.
ECO. Ritual Box
Subscribe to the ECO. Ritual Box & you will receive a new box every 3 months (this is 4 times per year).