DIY Chest Rub Collection
Description

A natural alternative.

When the time of year gets tough on our immune systems, many of us are struck down by the cold and flu. Luckily there are natural remedies to help us relieve the discomforts associated with common symptoms. We have put together a simple, natural and effective recipe to create your own chest rub.

Size: 4 x 10ml / 4 x 0.34fl.oz & 1 x 90g / 3.04fl.oz
Benefits

Natural alternative.

Potent essential oils.

Great to help with respiratory complaints
What's in my kit?

Organic Balm Base: Deeply hydrating and nourishing, this balm base can be combined with your favourite essential oils for additional benefits and personalised aroma.

Lavender Essential Oil: A light floral aroma, well known for its relaxing and healing qualities. Lavender is a nerve tonic and is beneficial for times of stress, irritation and sleeplessness.

Tea Tree Essential Oil: With its fresh and antiseptic scent, Tea Tree essential oil is a wonderful natural antiseptic.

Peppermint Essential Oil: A fresh and invigorating essential oil to uplift the spirit, stimulate mental clarity and improve concentration.

Eucalyptus Essential Oil: A familiar camphorous aroma that is medicinal and clearing to the mind, well-known for its healing effects on the respiratory system.

Read the full step by step DIY Chest Rub guide.
How to use DIY Chest Rub Collection
Ingredients

Organic Balm Base: Hellanthus annuus (Sunflower) seed oil*, cocos nucifera (Coconut) oil*, Euphorbia cerifera cera (Candelilla Wax), simmondsia chinensis seed (Jojoba) oil*, butyrospermum parkil (Shea Butter) butter*, theobroma cacao seed (Cacao) butter*, oneothera biennis (Evening Primrose) oil*, tocopherol* (Natural Vitamin E)

Lavender Essential Oil: Lavandula x intermedia, Lavandula angustifolia.

Peppermint Essential Oil: Mentha piperita.

Eucalyptus Essential Oil: Eucalyptus globulus.

Tea Tree Essential Oil: Melaleuca alternifolia.
Frequently asked questions

Is this safe for use during pregnancy?
We do not recommend using Peppermint in the early stages of pregnancy. However, safe to use in the last few weeks of pregnancy and during labour if desired. Eucalyptus is also not recommended during pregnancy. Avoid using essential oils during the first trimester unless you are under the supervision of a qualified practitioner. See our full list of pregnancy safe oils in our FAQs.

Is this safe for children?
Peppermint essential oil is not recommended for children under 12. We do not recommend the use of essential oils for children under 3 months. After 3 months use small amounts in a diffuser or for massage use a 1% dilution ratio in a carrier oil.

Is this safe to use around pets?
Peppermint & Eucalyptus essential oils are not recommended for use around pets. See our full list of pet safe oils in our FAQs.

Can I ingest this oil?
Essential oils should not be taken internally unless you have consulted with a health professional or Aromatherapist first.
Shipping information

Shipping Estimates
Standard shipping (4-7 business days)
Express Post (1-2 Business Days)

Orders placed before 12pm AEST Monday-Friday will be shipped same day, orders placed after 12pm will be shipped the next business day.

100% Happiness Guarantee
Not happy? Simply return your products to us within 30 days and we will provide you a refund. Items damaged or faulty? We will arrange a free return and replacement or refund for you. If you have any further questions please don't hesitate to contact our team at enquiries@ecomodernessentials.com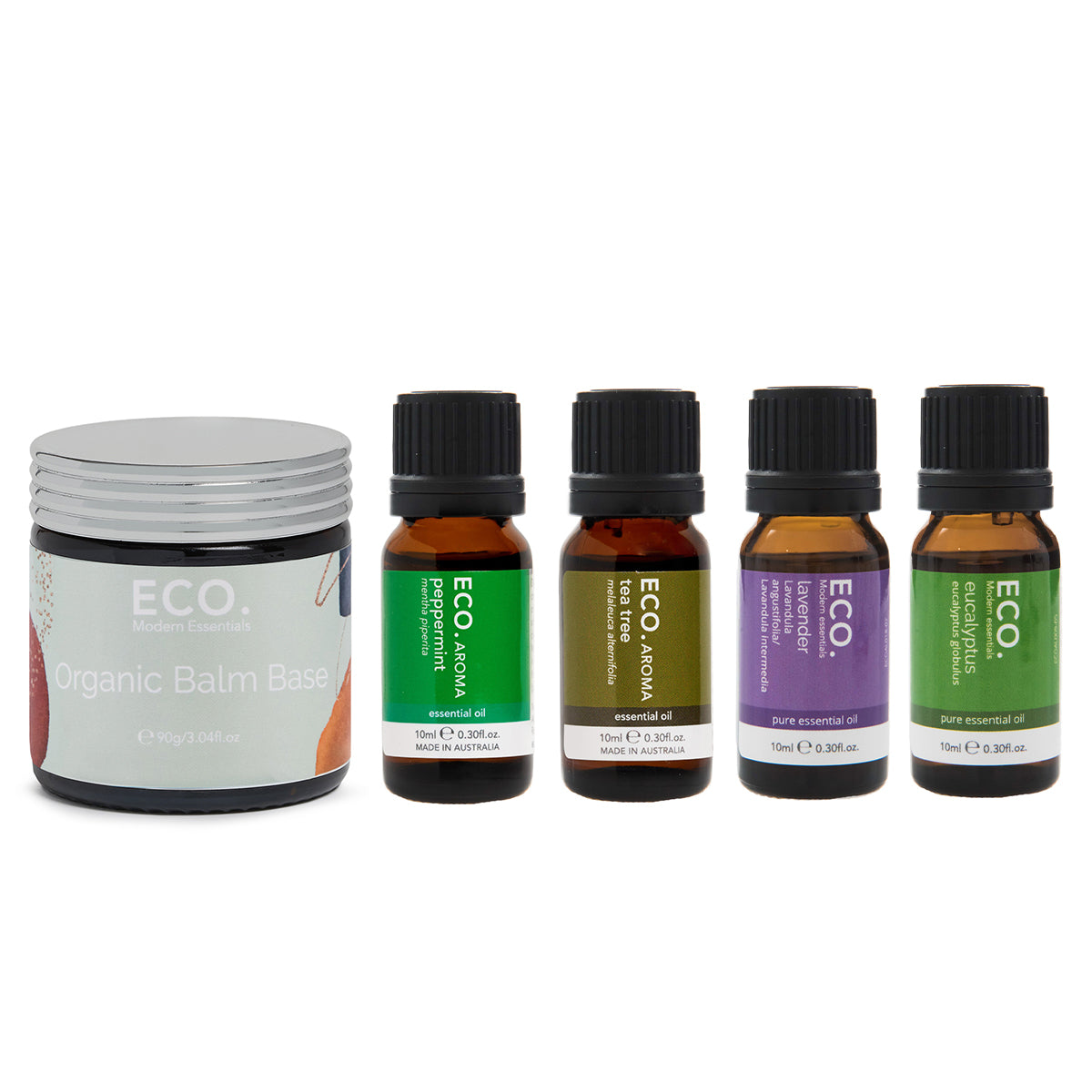 Eco modern essentials
Sustainability practices
We are committed to making a difference in the world by continually improving and adapting our practices in everything we do. Our ingredients are harvested from ethical sources, ensuring social and environmental integrity.
We aim to simplify and minimise our packaging using recycled materials and soy based inks. We strive to work with local suppliers and partners to reduce our carbon footprint and support the local economy. We hope that by inspiring more individuals to appreciate our natural resources, practicing self-care and taking steps to reduce their ecological footprint on this earth, it will help drive change in the world.
Subscribe and save with ECO.
ECO. Oil Club
ECO. Oil Club brings you the team's current favourite aromatherapy essentials every 2 months. Receive up to 5 essential oils including an exclusive blend.
ECO. Ritual Box
Subscribe to the ECO. Ritual Box & you will receive a new box every 3 months (this is 4 times per year).