Clove Bud Pure Essential Oil
Description

Warm & grounding for the mind & body.

The dry and spicy fragrance of Clove, with its warm and spicy tones, gently gathers our wayward thoughts and restores and sense of clarity. Clove bud adds depth to many essential oil blends; a dusky note to florals and a grounding, spicy warmth to citrus. Clove bud oil can be used to remove mould due to its powerful antifungal properties. 

 Size: 10ml / 0.34fl.oz

Blends well with: Sweet Orange, Frankincense, Cinnamon, Cedarwood, Ginger, & Fennel. 
Benefits

Clarifying.

Mental stimulant.

Calming to the digestive system.

Antibacterial, anti-fungal and antiviral properties.

Potent disinfectant.

Great for treating tired and fatigued muscles.
Learn More

Clove essential oil for muscular pain:
Clove bud essential oil is well known for its numbing action. You may have noticed the aroma of cloves and peppermint at the dentist's surgery. Cloves and their essential oil were traditionally used to numb toothache and to treat gum infections. Clove bud is an excellent choice for the care of general muscle aches and other soft tissue injuries. The analgesic property can help reduce muscle pain and its anti-inflammatory action is useful to treat arthritis, bursitis, sprains and strains. Bursitis commonly causes pain in the hips and shoulders and is the inflammation of the 'padding' or bursa that separate different structures within the body. The essential oil may help calm nerve pain such as sciatica and neuralgia too. Clove bud is a lovely warming essential oil that may reduce joint stiffness especially during cold weather.

Close essential oil for digestive complaints:
Clove bud essential oil has many useful properties for managing digestive issues. A Traditional Chinese Medicine remedy for nausea is to drink a tea made from brewed cloves. The essential oil is considered a tonic for the stomach and may generally help regulate the digestive system. More specifically, the essential oil can reduce abdominal pain that is caused by intestinal spasming and relieve excess wind due to its calming and antispasmodic action. If you have a poor appetite from high stress levels or illness, the aroma can help restore hunger. This oil has a high percentage of a compound called eugenol. Eugenol is responsible for the essential oil's powerful anti-infectious value and familiar aroma. Clove bud has been traditionally used to prevent and combat digestive infections that can cause digestive upsets. Clove bud can be massaged into the abdomen and lower back, in a suitable dilution, to help with digestive complaints and improve digestive health. If you have undiagnosed long term stomach pain or experience symptoms of gastroenteritis, such as vomiting or diarrhoea, for longer than two days you should seek treatment by your primary health care provider.

Clove essential oil for cleaning:
With well researched anti-fungal, anti-bacterial and anti-viral properties, clove bud makes a versatile addition to cleaning products. Clove bud is often thought to help control mould and could be useful in the bathroom and other areas prone to damp, such as a dark wardrobe. This essential oil has been used to help prevent digestive bugs that cause gastroenteritis and might be useful for cleaning surfaces where these bugs can linger. A Clove bud disinfectant spray naturally cleans areas such as the kitchen, toilets and eating areas to prevent gastro infections. The anti-bacterial and anti-viral properties can help reduce the spread of cold and flu germs and has been reported to be beneficial for treating bronchitis. For this purpose, Clove bud essential oil may be used in a diffuser to neutralise airborne germs. Other sources say that Clove bud is useful in the treatment of skin infections such as ringworm, athlete's foot and other fungal infections.

Clove essential oil for respiratory infection:
As mentioned, Clove bud has been reported to have some effect against germs that cause cold and flu due to its anti-viral and anti-bacterial properties. Clove bud is also thought to have immune stimulating properties and may help during illness to fortify the immune system. This immune stimulation may be due to an increase in circulation from the warming action of the essential oil. Clove bud has an anti-inflammatory action and has been recommended to treat sinus infection and asthma, although more research needs to be done to confirm this.

Clove essential oil for the mind:
The warming and dry aroma of clove bud is said to reduce mental fatigue and may improve memory. Our mental processes can be impacted by fatigue, stress, and diet, leaving us feeling cotton-headed and unable to concentrate. This essential oil has been described as a tonic for the nervous system and is thought to support cognition generally. It has been suggested that Clove acts like an analgesic for the emotions, giving us space to work through difficult moods without being distracted by painful feelings such as guilt and shame. Clove has an energising aroma and can be used in the diffuser to reduce drowsiness, apathy and a lack of motivation. A reluctant sleepyhead may benefit from a clove bud blend in the morning. A student with lots of homework or a worker trying to maintain their focus throughout the day can be refreshed by spicy clove bud oil. The beautiful dry sweet fragrance seems to help clarify thoughts. After having some practise blending with Clove bud you may like to create your own personalised perfume blend to wear to work or during times where concentration is needed, such as during a long drive.

Learn more about the

benefits and uses of Clove Bud essential oil

.
How to use Clove Bud Pure Essential Oil

Diffuser: Add 6-8 drops of Clove essential oil to a diffuser.

Quick fix: A few deep inhalations from the bottle can help when you are at work, in the car or anytime you need a quick break.

Massage: Use a 2.5% dilution; up to 15 drops of Clove oil per 30ml carrier oil.
Hand or foot bath: Add 2 drops of Clove essential oil to a bowl of water.

Compress: To a bowl of water, add 2 drops of Clove essential oil. Agitate a face washer in the water, wring out excess moisture and apply washer to the affected area. Repeat two or three times as the compress cools down or warms up to treat abdominal complaints and muscular pain.

Cleaning: Can be used in a spray bottle as a disinfectant.

Do not use undiluted on skin. Keep dilution low as Clove Bud can be toxic and overwhelming to the mind in large doses. Also, may cause skin irritation.


Care should be taken when blending with Clove bud because of its distinct and powerful aroma intensity. Only one or two drops too many and clove can very quickly overpower a blend. Delicate scents such as rose and neroli are easily lost in a cloud clove bud. Clove bud pairs well with other powerful fragrances such as peppermint, frankincense, lavender, ylang ylang and geranium. Other spice essential oils such as cinnamon, ginger and black pepper combine to create a warming and energising blend. To balance out the blend you may like to add a citrus note such as lemon or sweet orange.
Ingredients

Source: Indonesia
Botanical name: Syzygium aromaticum.
Frequently asked questions

Is Clove oil safe for pregnancy?
Use this oil with care, best used in a diffuser or diluted with a carrier oil (1% ratio). Avoid using essential oils during the first trimester unless you are under the supervision of a qualified practitioner.

Is Clove oil safe for children?
KEEP OUT OF REACH OF CHILDREN. Best to avoid Clove essential oil around children. Essential oils are considered too strong for use on babies' skin (0-24 months) and can be overwhelming on their developing systems. When using in a diffuser, use fewer drops then that for an adult (eg. 2-3 drops). See our ECO. Little range for appropriate, kid-friendly blends. Read more about Aromatherapy for Babies and Children and see our FAQ page for which essential oils to avoid.

Is Clove oil safe for dogs?
This essential oil is not recommended for use around pets.

Can I ingest this oil?
NOT TO BE TAKEN.
Shipping information

Shipping Estimates
Standard shipping (4-7 business days)
Express Post (1-2 Business Days)

Orders placed before 12pm AEST Monday-Friday will be shipped same day, orders placed after 12pm will be shipped the next business day.

100% Happiness Guarantee
Not happy? Simply return your products to us within 30 days and we will provide you a refund. Items damaged or faulty? We will arrange a free return and replacement or refund for you. If you have any further questions please don't hesitate to contact our team at enquiries@ecomodernessentials.com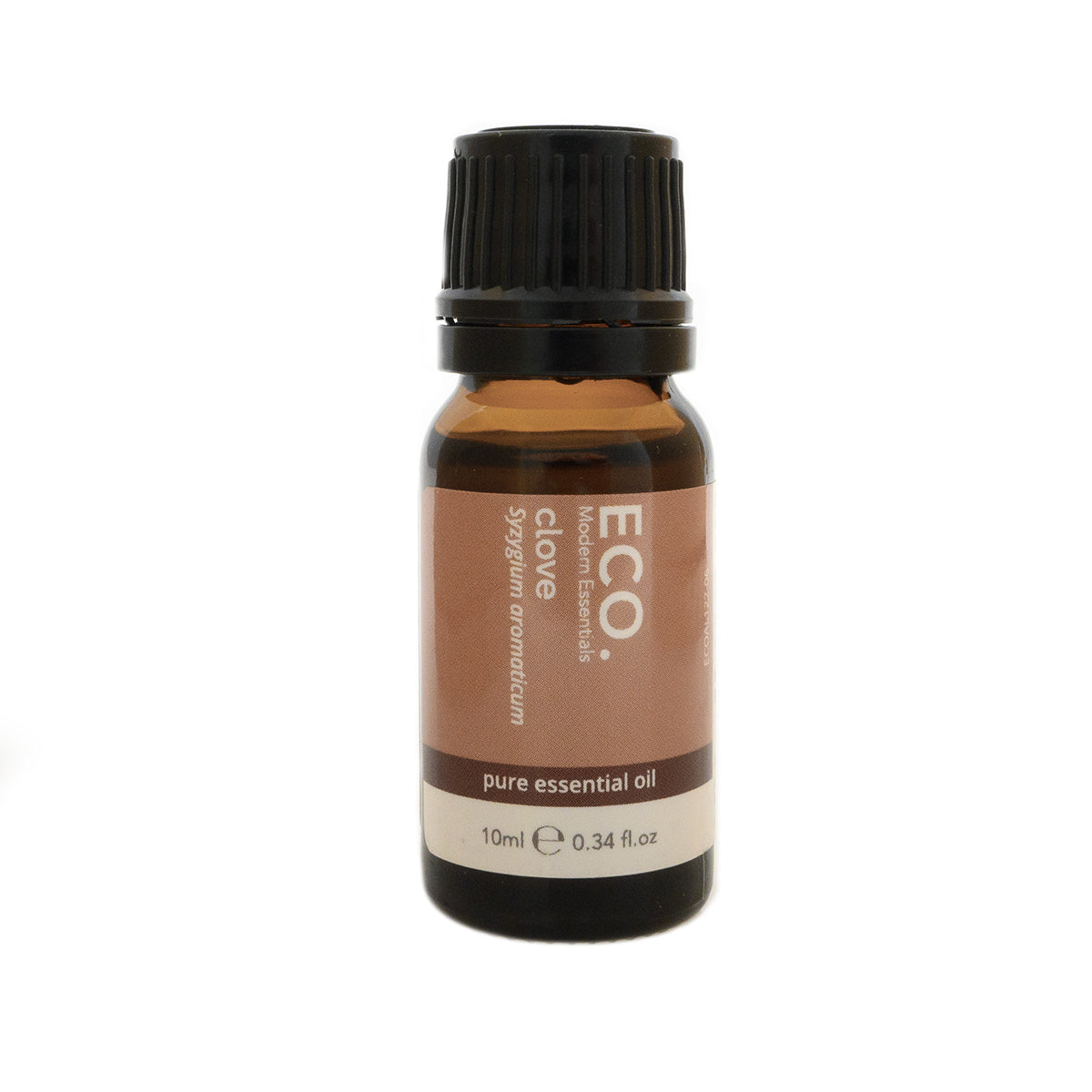 Clove Bud Pure Essential Oil
Eco modern essentials
Sustainability practices
We are committed to making a difference in the world by continually improving and adapting our practices in everything we do. Our ingredients are harvested from ethical sources, ensuring social and environmental integrity.
We aim to simplify and minimise our packaging using recycled materials and soy based inks. We strive to work with local suppliers and partners to reduce our carbon footprint and support the local economy. We hope that by inspiring more individuals to appreciate our natural resources, practicing self-care and taking steps to reduce their ecological footprint on this earth, it will help drive change in the world.
Subscribe and save with ECO.
ECO. Oil Club
ECO. Oil Club brings you the team's current favourite aromatherapy essentials every 2 months. Receive up to 5 essential oils including an exclusive blend.
ECO. Ritual Box
Subscribe to the ECO. Ritual Box & you will receive a new box every 3 months (this is 4 times per year).