Bliss Diffuser & Most-Loved Christmas Essential Oil Trio Collection
Description

Holiday celebration.

Elevate your surroundings with this delightful bundle, featuring our elegant Bliss Diffuser along with three enchanting essential oil blends: Candy Cane, White Christmas, and Silent Night. Infuse your space with the magic of the season, as these aromatic blends fill the air with festive cheer, creating a joyful and tranquil atmosphere. Transform any moment into a holiday celebration with the Bliss Diffuser & Most-Loved Trio Collection.

Size: 3 x 10ml / 0.34fl.oz
What's in my kit?

Bliss Diffuser: Enjoy the benefits of aromatherapy while adding a touch of style to your home. Designed with purpose and functionality, this ultrasonic mist diffuser features a range of lighting and mist options, allowing you to create the perfect atmosphere in your home. The bamboo base and glass cover gives this diffuser a natural and organic look to complement any living space.

Candy Cane Essential Oil Blend: A Christmas classic, the smell of Candy Cane brings back childhood memories of long festive days spent with friends and family. The sweet peppermint smell of our Candy Cane blend will without a doubt instil the spirit of joy and happiness in your home.

White Christmas Essential Oil Blend: This delightful zesty, sweet and slightly spicy blend is like Christmas in a bottle! The warming yet fresh aroma will envelop your home with joy and happiness. Diffuse upon waking to set the mood for the festive day or get cosy in the afternoon and enjoy the soothing aroma.

Silent Night Essential Oil Blend: Silent Night essential oil blend is the perfect balance between sweet and earthy. This blend will turn your home into a warm sanctuary that everyone will feel comfort in.
How to use Bliss Diffuser & Most-Loved Christmas Essential Oil Trio Collection

Diffuser: Add 6-8 drops of essential oil to your Bliss Diffuser.
Ingredients

Candy Cane Blend: Citrus sinensis (Sweet Orange Oil), Citrus limon (Lemon Oil), Mentha piperita (Peppermint Oil), Citrus aurantifolia (Lime Oil), Mentha spicata (Spearmint Oil), Vanilla

White Christmas Blend: Citrus sinensis (Sweet Orange Oil), Citrus reticulata (Tangerine Oil), Pelargonium graveolens (Geranium Oil), Cupressus sempervirens (Cypress Oil), Cinnamomum verum (Cinnamon Oil)

Silent Night Blend: Citrus aurantium dulcis (Sweet Orange) peel oil, Amyris balsamifera (Amyris) bark oil, Boswellia serrata (Frankincense) oil, Myristica fragrans (Nutmeg) kernel oil, Eugenia caryophyllus (Clove) flower oil, Cinnamomum zeylanicum (Cinnamon) leaf oil, Vetiveria zizanoides (Vetiver) root oil, Natural vanillin, Commiphora myrrha (Myrrh) gum oil, Santalum spicata (Australian Sandalwood) wood oil, Rosa damascena (Rose Absolute) flower extract.
Frequently asked questions

Sun Exposure Warning
If applying citrus essential oils or blends that contain citrus topically avoid direct sunlight for 12 hours as they may cause photosensitivity.

Is this safe for use during pregnancy?
We do not recommend using Candy Cane Blend & Gingerbread Blend during pregnancy. Avoid using essential oils during the first trimester unless you are under the supervision of a qualified practitioner.

Is this safe for children?
Essential oils are considered too strong for use on babies' skin (0-24 months) and can be overwhelming on their developing systems. When using in a diffuser, use fewer drops then that for an adult (eg. 2-3 drops). See our ECO. Little range for appropriate, kid-friendly blends. Read more about Aromatherapy for Babies and Children and see our FAQ page for which essential oils to avoid.

Is this safe to use around pets?
Peppermint, Citrus (including Lemon), Eucalyptus & Ylang Ylang essential oils are not recommended for use around pets. See our full list of pet safe oils in our FAQs.

Can I ingest this oil?
Essential oils should not be taken internally unless you have consulted with a health professional or Aromatherapist first.

Does this product have a warranty?
Yes all ECO. Accessories have a 12 month warranty.

Is it normal for my diffuser to spark or glow when I plug it in? If the cord is already plugged into the wall then hot electricity will be travelling from the outlet to the diffuser, this will cause a rapid draw of power when plugged in which results in a slight glowing around the cord when entering the diffuser outlet. This is normal and comparable to static electricity. If you are experiencing this then we recommend to plug the diffuser outlet in first before plugging the power point into the wall which will resolve the issue.
Shipping information

Shipping Estimates
Standard shipping (4-7 business days)
Express Post (1-2 Business Days)

Orders placed before 12pm AEST Monday-Friday will be shipped same day, orders placed after 12pm will be shipped the next business day.

100% Happiness Guarantee
Not happy? Simply return your products to us within 30 days and we will provide you a refund. Items damaged or faulty? We will arrange a free return and replacement or refund for you. If you have any further questions please don't hesitate to contact our team at enquiries@ecomodernessentials.com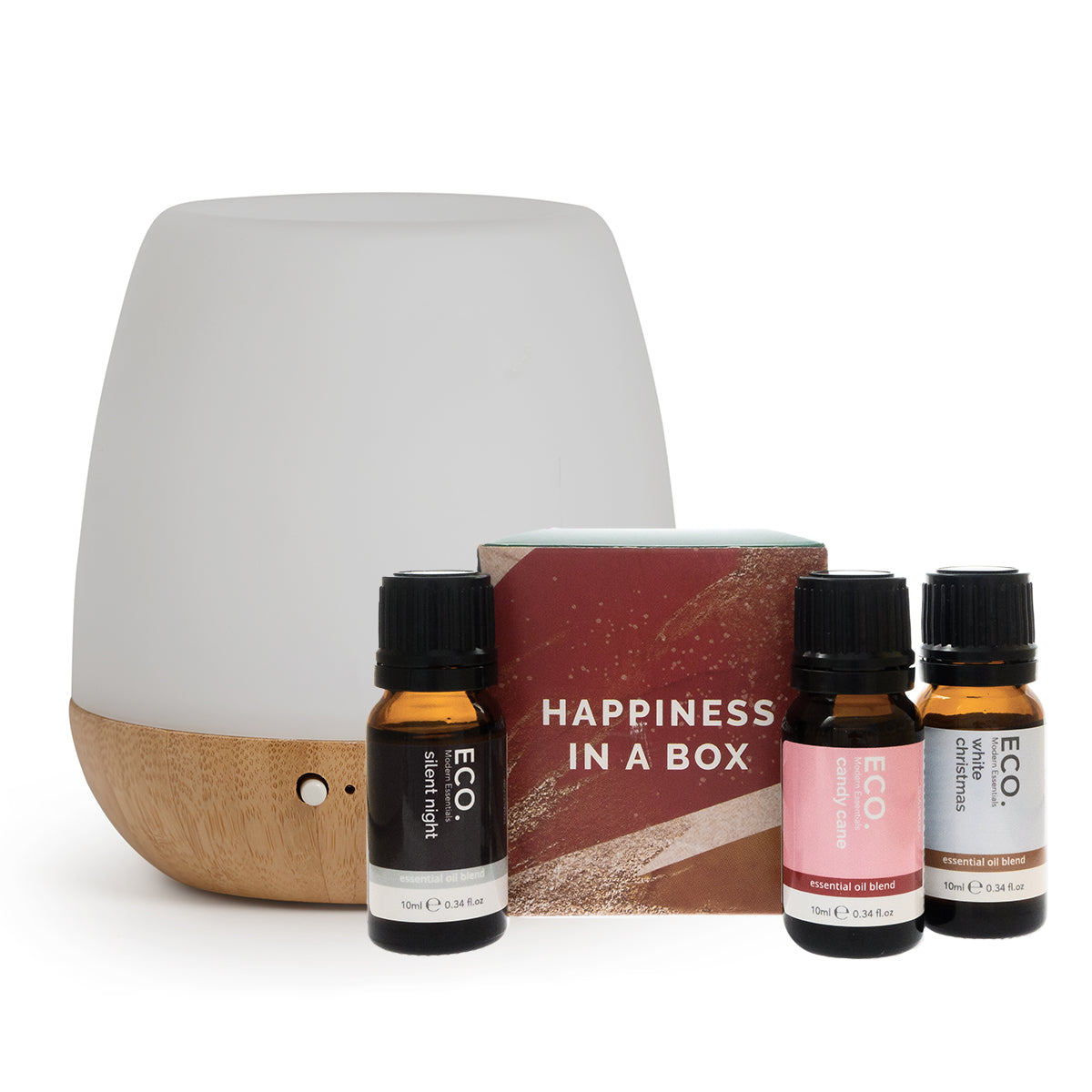 Bliss Diffuser & Most-Loved Christmas Essential Oil Trio Collection
Eco modern essentials
Sustainability practices
We are committed to making a difference in the world by continually improving and adapting our practices in everything we do. Our ingredients are harvested from ethical sources, ensuring social and environmental integrity.
We aim to simplify and minimise our packaging using recycled materials and soy based inks. We strive to work with local suppliers and partners to reduce our carbon footprint and support the local economy. We hope that by inspiring more individuals to appreciate our natural resources, practicing self-care and taking steps to reduce their ecological footprint on this earth, it will help drive change in the world.
Subscribe and save with ECO.
ECO. Oil Club
ECO. Oil Club brings you the team's current favourite aromatherapy essentials every 2 months. Receive up to 5 essential oils including an exclusive blend.
ECO. Ritual Box
Subscribe to the ECO. Ritual Box & you will receive a new box every 3 months (this is 4 times per year).