Coastal Diffuser
Description

Ceramic essential oil diffuser.

Take control of your atmosphere and create your desired ambience with our Coastal Diffuser. Featuring a bamboo base and a subtle, textured, ceramic lid the Coastal Diffuser will compliment any space and is a beautiful way to indulge in aromatherapy.

 

Size: 180ml water capacity
Features

Auto shut off mist and light settings

Continuous or intermittent mist options

Bright, weak and pulsating light options

Easy to use

Quiet

Purify the air

Smooth mist

Timer setting

Create a calming atmosphere
Specifications

Dimensions: 125mm W, 125mm L, 200mm H,

Power Input: DC 24V, 12W

Water tank capacity: 180ml
How to use Coastal Diffuser

1. Remove the cover and inner lid.
2. Fill the water tank to or below the MAX water mark level.
3. Add 6-8 drops of essential oil into the water tank.
4. Place the cover back on.
5.Plug the adapter into the base of the diffuser and then connect and turn on at the household power outlet.
6. Press the "mist" button (left) and select desired setting.
7. Press the "light" button (right) and choose desired setting.
8. To turn off, press the mist button until the mist stops.

Mist setting:
To switch between intermittent mist (30 sec on/30 sec off) and continous mist mode, press switch for 2 seconds until indicator blinks.

Timer setting:
1st click - always on mist
2nd click - 1 hour mist
3rd click - 3 hours mist
4th click - 8 hours mist
5th click - turn off mist

Note: Timer is not interrupted whenever mist mode is changed.

Light setting:
Light mode switch:
1st click - Brighter light
2nd click - Weaker light
3rd click - Pulsating light
4th click Turn off light

Pulsating light: Brightness of light gradually increases and decreases in cycles.

Sleep helper mode: Lamp timer function tailored to turn off lamp in 30 minutes. To activate press switch for 2 seconds until 3 indicators turn on and off one by one. To deactivate, shortly click the switch again. The lamp will be turned off directly. Note: Sleep helper function is only available for "brighter light" and "weaker light" mode.
Frequently asked questions

Does this product have a warranty?
Yes all ECO. Accessories have a 12 month warranty.

Is it normal for my diffuser to spark or glow when I plug it in?
If the cord is already plugged into the wall then hot electricity will be travelling from the outlet to the diffuser, this will cause a rapid draw of power when plugged in which results in a slight glowing around the cord when entering the diffuser outlet. This is normal and comparable to static electricity. If you are experiencing this then we recommend to plug the diffuser outlet in first before plugging the power point into the wall which will resolve the issue.

Can I use the light settings without the mist on?
Yes - you can use the diffuser as a night light or have the light on for display purposes and not be diffusing.

Are there different coloured lights on the Coastal Diffuser?
The Coastal Diffuser has a warm yellow light only, please see above under "how to use" for settings for your light or refer to the packaging.
Shipping information

Shipping Estimates
Standard shipping (4-7 business days)
Express Post (1-2 Business Days)

Orders placed before 12pm AEST Monday-Friday will be shipped same day, orders placed after 12pm will be shipped the next business day.

100% Happiness Guarantee
Not happy? Simply return your products to us within 30 days and we will provide you a refund. Items damaged or faulty? We will arrange a free return and replacement or refund for you. If you have any further questions please don't hesitate to contact our team at enquiries@ecomodernessentials.com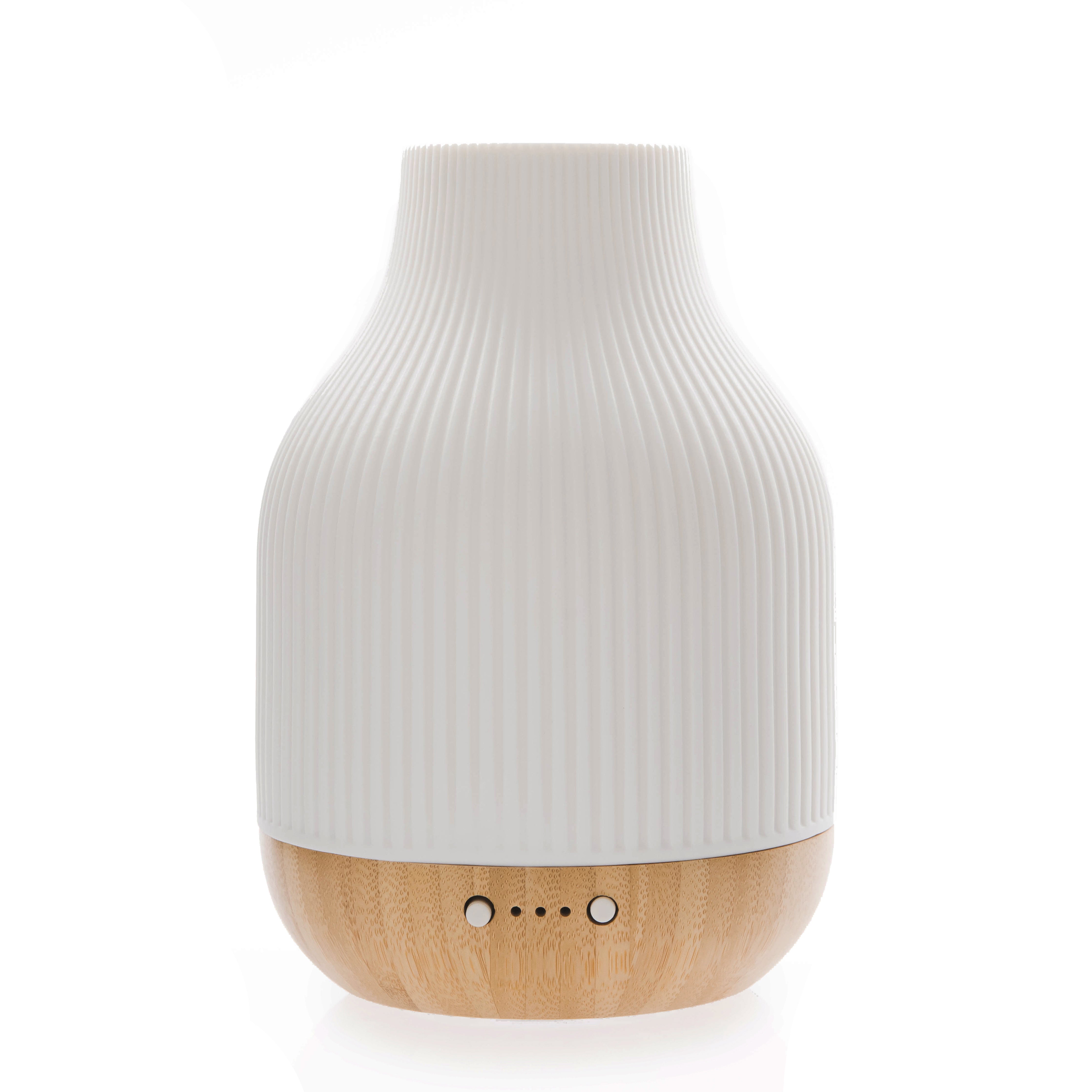 Eco modern essentials
Sustainability practices
We are committed to making a difference in the world by continually improving and adapting our practices in everything we do. Our ingredients are harvested from ethical sources, ensuring social and environmental integrity.
We aim to simplify and minimise our packaging using recycled materials and soy based inks. We strive to work with local suppliers and partners to reduce our carbon footprint and support the local economy. We hope that by inspiring more individuals to appreciate our natural resources, practicing self-care and taking steps to reduce their ecological footprint on this earth, it will help drive change in the world.
Subscribe and save with ECO.
ECO. Oil Club
ECO. Oil Club brings you the team's current favourite aromatherapy essentials every 2 months. Receive up to 5 essential oils including an exclusive blend.
ECO. Ritual Box
Subscribe to the ECO. Ritual Box & you will receive a new box every 3 months (this is 4 times per year).