Spring Cleaning Essentials
Description

Spring into cleaning.

Your ultimate companion for a rejuvenating and thorough seasonal cleanse. This carefully curated bundle combines the power of nature with the convenience of modern cleaning, providing you with everything you need to create a pristine and hygienic living environment.

Includes:
- DIY Cleaning Kit, 500ml Amber Glass Spray Bottle, Castile Soap, Witch Hazel


Size: 6 x 10ml, 1 x 200ml, 1 x 100ml / 6 x 0.34fl.oz, 1 x 6.76fl.oz, 1 x 3.38fl.oz

Benefits

Switch to natural alternatives for your everyday cleaning.

Everything you need to make your own products.

Save when you buy in a kit.

Safe and effective.
What's in my kit?

DIY Cleaning Kit: A selection of pure essential oils to help naturally clean your home. This kit can be used in a variety of ways with a Soap Scum Remover recipe & All Purpose Cleaner recipe included.

500ml Amber Glass Spray Bottle: The perfect addition to your DIY collection. From room sprays to household cleaners, this amber glass spray bottle is a great way to store and preserve the quality of your essential oils. An all-natural and economical way to keep your home nice and clean.

Castile Soap: Castile Soap is a multipurpose natural vegetable-based and biodegradable soap. It is extremely versatile and effective when used to make your own natural products from body washes to household cleaners.

Witch Hazel: Witch Hazel is a natural plant extract known for its cleansing, soothing and toning effects on the skin. It can also be utilised as an essential oil carrier for water-based dilutions.
How to use Spring Cleaning Essentials

Need inspiration? See our two great blogs below:
Ingredients

Blue Mallee Eucalyptus Essential Oil: Eucalyptus polybractea.

Lemongrass Essential Oil: Cymbopogon citratus.

Tea Tree Essential Oil: Melaleuca alternifolia.

Peppermint Essential Oil: Mentha piperita.

Lemon Essential Oil: Citrus limon.

Sweet Orange Essential Oil: Citrus sinensis.

Castile Soap: Aqua, potassium cocoate, sodium benzoate, citric acid.

Witch Hazel: Hamamelis virginiana water, alcohol.
Frequently asked questions

Sun Exposure Warning
If applying citrus essential oils or blends that contain citrus topically avoid direct sunlight for 12 hours as they may cause photosensitivity.

Is this safe for use during pregnancy?
We do not recommend using Peppermint in the early stages of pregnancy. However, safe to use in the last few weeks of pregnancy and during labour if desired.. Avoid using essential oils during the first trimester unless you are under the supervision of a qualified practitioner.

Is this safe for children?
Essential oils are considered too strong for use on babies' skin (0-24 months) and can be overwhelming on their developing systems. When using in a diffuser, use fewer drops then that for an adult (eg. 2-3 drops). See our ECO. Little range for appropriate, kid-friendly blends. Read more about Aromatherapy for Babies and Children and see our FAQ page for which essential oils to avoid.

Is this safe to use around pets?
Peppermint, Citrus (including Lemon), Eucalyptus & Ylang Ylang essential oils are not recommended for use around pets. See our full list of pet safe oils in our FAQs.

Can I ingest this oil?
Essential oils should not be taken internally unless you have consulted with a health professional or Aromatherapist first.
Shipping information

Shipping Estimates
Standard shipping (4-7 business days)
Express Post (1-2 Business Days)

Orders placed before 12pm AEST Monday-Friday will be shipped same day, orders placed after 12pm will be shipped the next business day.

100% Happiness Guarantee
Not happy? Simply return your products to us within 30 days and we will provide you a refund. Items damaged or faulty? We will arrange a free return and replacement or refund for you. If you have any further questions please don't hesitate to contact our team at enquiries@ecomodernessentials.com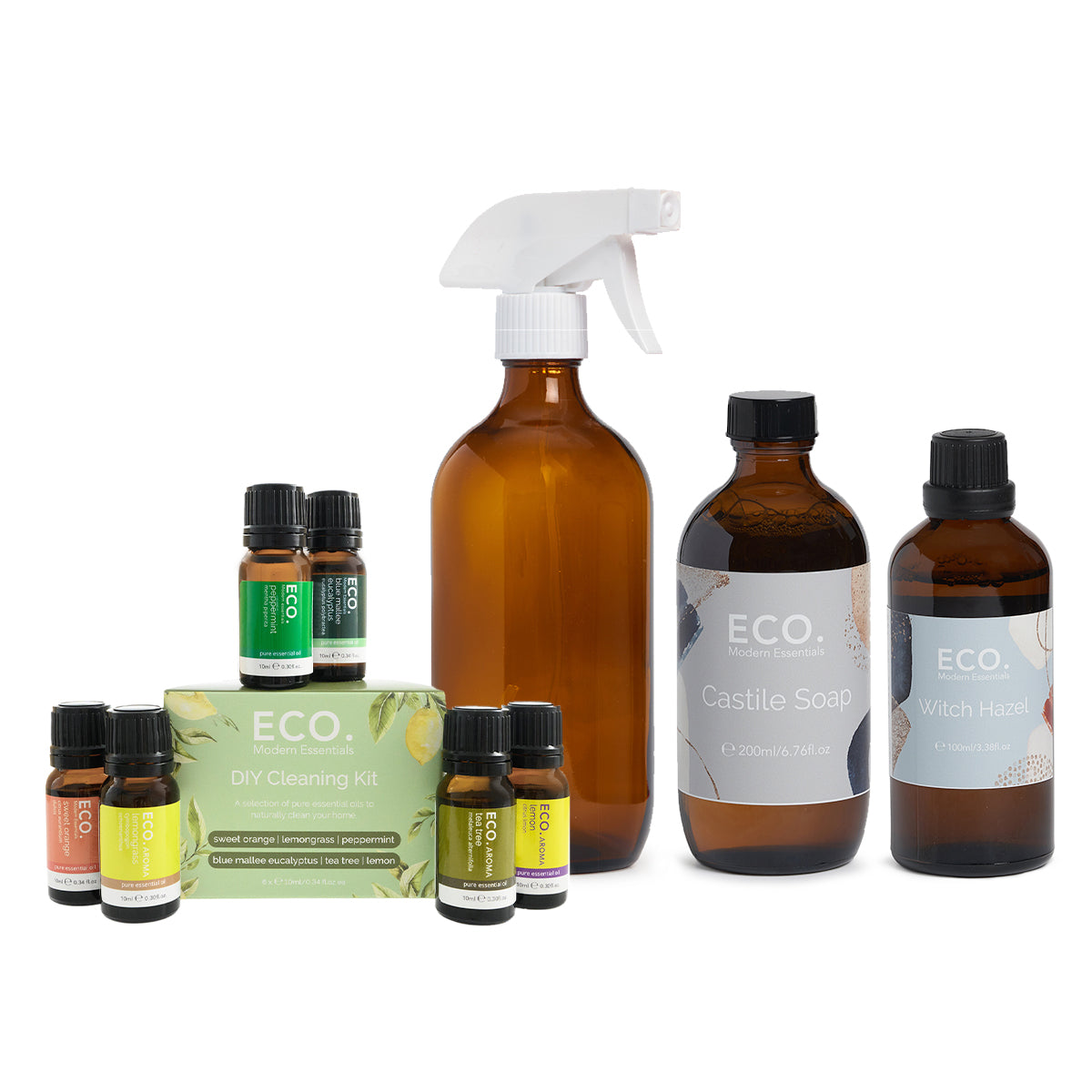 Spring Cleaning Essentials
Eco modern essentials
Sustainability practices
We are committed to making a difference in the world by continually improving and adapting our practices in everything we do. Our ingredients are harvested from ethical sources, ensuring social and environmental integrity.
We aim to simplify and minimise our packaging using recycled materials and soy based inks. We strive to work with local suppliers and partners to reduce our carbon footprint and support the local economy. We hope that by inspiring more individuals to appreciate our natural resources, practicing self-care and taking steps to reduce their ecological footprint on this earth, it will help drive change in the world.
Subscribe and save with ECO.
ECO. Oil Club
ECO. Oil Club brings you the team's current favourite aromatherapy essentials every 2 months. Receive up to 5 essential oils including an exclusive blend.
ECO. Ritual Box
Subscribe to the ECO. Ritual Box & you will receive a new box every 3 months (this is 4 times per year).