Niaouli Pure Essential Oil
Description

Versatility in a bottle.

With a fresh, spicy, champhoraceous and herbaceous odour, Niaouli is renowned for its versatility, Niaouli oil possesses a wide range of benefits for your wellbeing and beauty regimen. Its natural antibacterial, antifungal, and antiseptic properties make it a go-to solution for skin concerns. When applied topically, it helps cleanse and purify the skin, soothing irritation and promoting a healthy complexion. It may also assist in relieving minor cuts, scrapes, and blemishes.

Size: 10ml / 0.34fl.oz
Benefits

Respiratory relief.

Immune support.

Mental clarity.

Great for muscle aches and pains.
Learn more about Niaouli essential oil

Disinfectant: like its cousin Tea Tree, Niaouli has anti-septic and anti-bacterial properties, perfect for disinfecting cuts, wounds, and surfaces.

Expectorant: with high 1,8 cineole levels, Niaouli is an expectorant which helps clear the lungs and sinuses by thinning mucous making it an excellent choice for colds, flu, and other chest infections.

Hayfever: helps improve respiratory symptoms of allergies during hayfever and chronic asthma with a mild anti-allergenic action.

Wounds: cleans and promotes wound healing with antiseptic properties. Assists in closing wounds with cicatrisant and vulnerary actions.

Muscles and joints: massage a Niaouli blend into sore muscles to help relieve pain from exercise, household chores and gardening. Excellent to reduce arthritic pain and stiffness.

Skin care: Perfect to help clear acne outbreaks and treat other skin infections such as boils.

Mental Clarity: Clears the mind and lifts the fog of mental fatigue. Perfect to diffuse in the office or home study.
How to use Niaouli Pure Essential Oil

Diffuser: Add 6-8 drops of Niaouli essential oil to a diffuser for a natural air antiseptic to reduce the spread of airborne germs. A few drops of citrus essential oil such as Lemon or Lime also boost the air antiseptic property of Niaouli.

Quick fix: A few deep inhalations from the bottle can help clear lung congestion and help with a blocked nosed associated with allergies.

Shower: Add a few drops of Niaouli to a face-washer and place in the corner of the shower. The heat from the water will cause the essential oil to evaporate creating a steam bath that is clearing to the lungs and sinuses.

Compress: To treat skin infection. Add 2 -3 drops of Niaouli to a bowl of very warm water. Soak a face washer and wring out excess water. Place the face washer over affected area, such as acne outbreak, in-grown hair, or boils. Remove and replace once face washer has cooled. Repeat several times.

Massage: Use a 2.5% dilution; 50 drops in 100ml carrier oil. Massage into sore muscles and joints to reduce stiffness and improve muscular recovery after exercise.

Hand or foot bath: Add 2 drops of Niaouli to a bowl of water. May aid in the treatment of open wounds and arthritis.

Steam: Add 1 to 2 drops of Niaouli essential oil to a bowl of steaming hot water. Lean close to the bowl and breath deeply for several minutes, to help clear lung and sinus congestion. Niaouli steam treatment also aids in the management of acne prone skin.

Clean: Add 6 drops of Niaouli to your washing machine to freshen clothes, add to cleaning products to disinfect toilet, bathroom, and floors.
Ingredients

Melaleuca quinquenervia (Niaouli Oil)
(syn. Melaleuca viridiflora)
Frequently asked questions

Sun Exposure Warning
If applying citrus essential oils or blends that contain citrus topically avoid direct sunlight for 12 hours as they may cause photosensitivity.

Is this safe for use during pregnancy?
Use this oil with care, best used in a diffuser or diluted with a carrier oil (1% ratio). Avoid using essential oils during the first trimester unless you are under the supervision of a qualified practitioner.

Is this safe for children?
Avoid use on or near the face of children under 2. Essential oils are considered too strong for use on babies' skin (0-24 months) and can be overwhelming on their developing systems. When using in a diffuser, use fewer drops then that for an adult (eg. 2-3 drops). See our ECO. Little range for appropriate, kid-friendly blends. Read more about Aromatherapy for Babies and Children and see our FAQ page for which essential oils to avoid.

Is this safe to use around pets?
Peppermint, Citrus (including Lemon), Eucalyptus & Ylang Ylang essential oils are not recommended for use around pets. See our full list of pet safe oils in our FAQs.

Can I ingest this oil?
Essential oils should not be taken internally unless you have consulted with a health professional or Aromatherapist first.
Shipping information

Shipping Estimates
Standard shipping (4-7 business days)
Express Post (1-2 Business Days)

Orders placed before 12pm AEST Monday-Friday will be shipped same day, orders placed after 12pm will be shipped the next business day.

100% Happiness Guarantee
Not happy? Simply return your products to us within 30 days and we will provide you a refund. Items damaged or faulty? We will arrange a free return and replacement or refund for you. If you have any further questions please don't hesitate to contact our team at enquiries@ecomodernessentials.com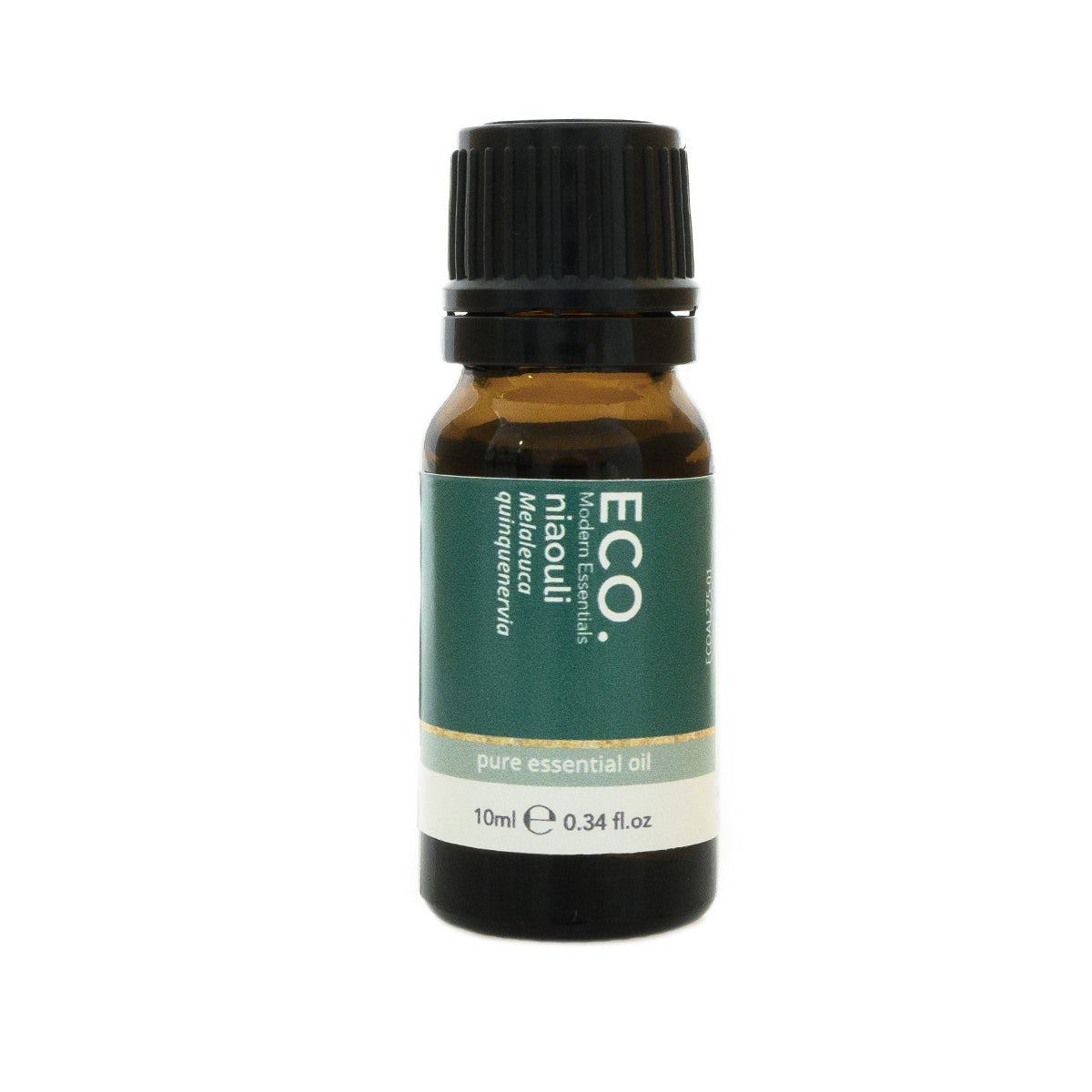 Niaouli Pure Essential Oil
Eco modern essentials
Sustainability practices
We are committed to making a difference in the world by continually improving and adapting our practices in everything we do. Our ingredients are harvested from ethical sources, ensuring social and environmental integrity.
We aim to simplify and minimise our packaging using recycled materials and soy based inks. We strive to work with local suppliers and partners to reduce our carbon footprint and support the local economy. We hope that by inspiring more individuals to appreciate our natural resources, practicing self-care and taking steps to reduce their ecological footprint on this earth, it will help drive change in the world.
Subscribe and save with ECO.
ECO. Oil Club
ECO. Oil Club brings you the team's current favourite aromatherapy essentials every 2 months. Receive up to 5 essential oils including an exclusive blend.
ECO. Ritual Box
Subscribe to the ECO. Ritual Box & you will receive a new box every 3 months (this is 4 times per year).