ECO. Little Study Time Essential Oil Blend
Description

Make homework fun.

Turn homework and learning activities into fun filled moments with this uplifting and balancing blend. Specifically developed to help promote concentration and clarity of mind, this blend is a natural creativity enhancer! The combination of citrus and herbal essential oils work together to improve focus while calming the mind. This blend is suitable for children aged 2 years and older

  

Size: 10ml / 0.34fl.oz
Benefits

Uplifting and energising.

Encourage focus and concentration.

Soothing and balancing for the mind.

How to use ECO. Little Study Time Essential Oil Blend

Diffuser: Diffuse 5 drops for up to 30 minutes at a time to encourage concentration, alertness and to calm the mind.

Topically: Use a 1% dilution. Mix 1 drop with 5ml of carrier oil and apply to your child's wrists, back of the neck and/or collar. Suitable for massage.

Note: Always patch test first. May stain clothes. Not suitable for use in the bath. Citrus essential oils may cause photosensitivity. Avoid sunlight after topical application.
Ingredients

Citrus limon (Lemon Oil), Citrus paradisi (Grapefruit Oil), Citrus bergamia (Bergamot Oil), Mentha spicata (Spearmint Oil), Lavandula angustifolia (Lavender Oil), Chrysopogon zizanoides (Vetiver Oil)
Frequently asked questions

Can I use this blend for my child under 2 years old?
Essential oils are considered too strong for use on babies' skin (0-24 months) and can be overwhelming on their developing systems. However we can still use essential oils in a diffuser. Add 5 drops to the diffuser and diffuse for up to 30 minutes.

Is this safe for use during pregnancy?
Use this oil with care. Avoid using essential oils during the first trimester unless you are under the supervision of a qualified practitioner. See our full list of pregnancy safe oils in our FAQs.

Is this safe to use around pets?
This blend is not recommended for use around pets. See our full list of pet safe oils in our FAQs.

Can I ingest this oil?
This blend has been developed for inhalation and topical application only. This blend should not be taken internally.

Safety Warning
For occasional use only. Avoid contact with eyes and mucous membranes. Do not use on the face or near the nose or mouth. Choking hazard - this product contains small parts and is not suitable for children under 3 years of age to handle without adult supervision.
Shipping information

Shipping Estimates
Standard shipping (4-7 business days)
Express Post (1-2 Business Days)

Orders placed before 12pm AEST Monday-Friday will be shipped same day, orders placed after 12pm will be shipped the next business day.

100% Happiness Guarantee
Not happy? Simply return your products to us within 30 days and we will provide you a refund. Items damaged or faulty? We will arrange a free return and replacement or refund for you. If you have any further questions please don't hesitate to contact our team at enquiries@ecomodernessentials.com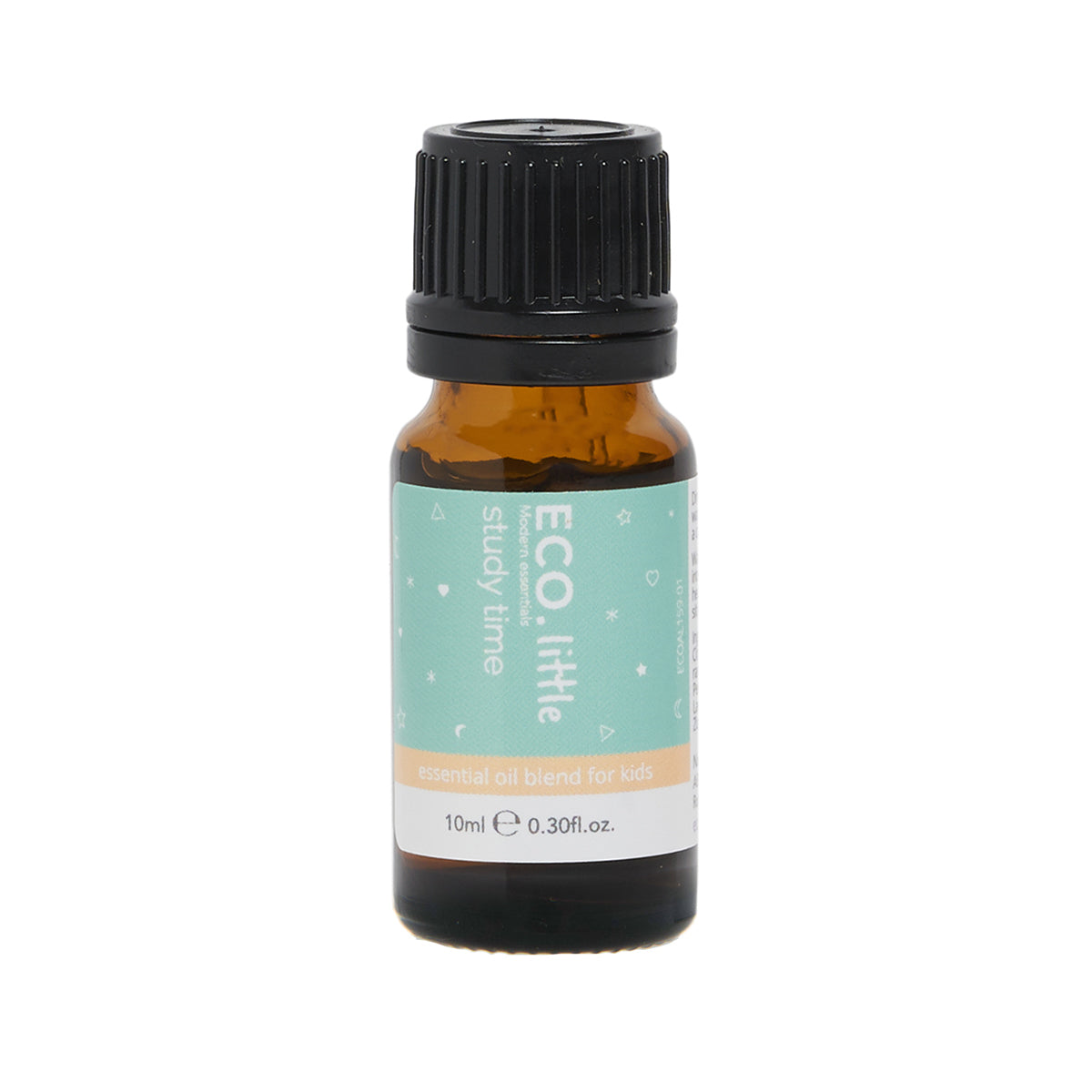 ECO. Little Study Time Essential Oil Blend
Eco modern essentials
Sustainability practices
We are committed to making a difference in the world by continually improving and adapting our practices in everything we do. Our ingredients are harvested from ethical sources, ensuring social and environmental integrity.
We aim to simplify and minimise our packaging using recycled materials and soy based inks. We strive to work with local suppliers and partners to reduce our carbon footprint and support the local economy. We hope that by inspiring more individuals to appreciate our natural resources, practicing self-care and taking steps to reduce their ecological footprint on this earth, it will help drive change in the world.
Subscribe and save with ECO.
ECO. Oil Club
ECO. Oil Club brings you the team's current favourite aromatherapy essentials every 2 months. Receive up to 5 essential oils including an exclusive blend.
ECO. Ritual Box
Subscribe to the ECO. Ritual Box & you will receive a new box every 3 months (this is 4 times per year).