DIY Dishwashing Liquid Bundle
Description

Natural cleaning alternative.

Simplify your dishwashing liquid with this handy bundle. This bundle includes our Castile Soap - a multipurpose natural vegetable-based & biodegradable soap, Lemon pure essential oil and a zero waste, vegan friendly coconut fibre scrubber. Two ingredients for cleaner cleaning! See our 'how to use' section for more.

Size: 1 x 10ml / 6 x 0.34fl.oz
Benefits

Eco-friendly.

Reusable & recyclable.

Remove chemicals & toxins from your home.

Clean ingredients.

Natural alternative.
What's in my kit?

Castile Soap: Castile Soap is a multipurpose natural vegetable-based and biodegradable soap. It is extremely versatile and effective when used to make your own natural products from body washes to household cleaners.

Size: 200ml / 6.76fl.oz

Lemon Essential Oil: Like a burst of sunshine through the clouds, fresh and clean, Lemon essential oil is brimming with vitality. The citrus scent has a gently sour undertone topped with a deliciously light sweet note. It brings to mind cleanliness, sunlight and a freshness that is cheerful and exhilarating. It is a lovely stimulating oil that can help clear emotional overload and revive fatigued spirits.

ECOMAX Kitchen Scrubber: Replace your green nylon scourer with a biodegradable, zero waste, vegan friendly coconut fibre scrubber. Coconut fibre lasts longer, it won't become greasy and is great for all your scrubbing needs. Compost your plastic free kitchen scrubber at the end of its life.
How to use DIY Dishwashing Liquid Bundle

Add up to 100 drops of Lemon essential oil directly to your Castile Soap and shake well. When washing dishes, add 2 tablespoons of the dilution to your sink and mix through the water. Use on your hand washing dishes and as a fresh produce wash.
Ingredients

Castile Soap: Aqua, potassium cocoate, sodium benzoate, citric acid.

Lemon Pure Essential Oil: Citrus limon.

ECOMAX Kitchen Scubbrer: Coconut fibres
Frequently asked questions

Is this safe for use during pregnancy?
Yes Castile Soap & Lemon essential oil is safe to use while pregnant. If you wish to add essential oils to your Castile Soap DIY's please avoid using essential oils during the first trimester unless you are under the supervision of a qualified practitioner. See our full list of pregnancy safe oils in our FAQs.

Is this safe for children?
Yes Castile Soap can be used on children.
Shipping information

Shipping Estimates
Standard shipping (4-7 business days)
Express Post (1-2 Business Days)

Orders placed before 12pm AEST Monday-Friday will be shipped same day, orders placed after 12pm will be shipped the next business day.

100% Happiness Guarantee
Not happy? Simply return your products to us within 30 days and we will provide you a refund. Items damaged or faulty? We will arrange a free return and replacement or refund for you. If you have any further questions please don't hesitate to contact our team at enquiries@ecomodernessentials.com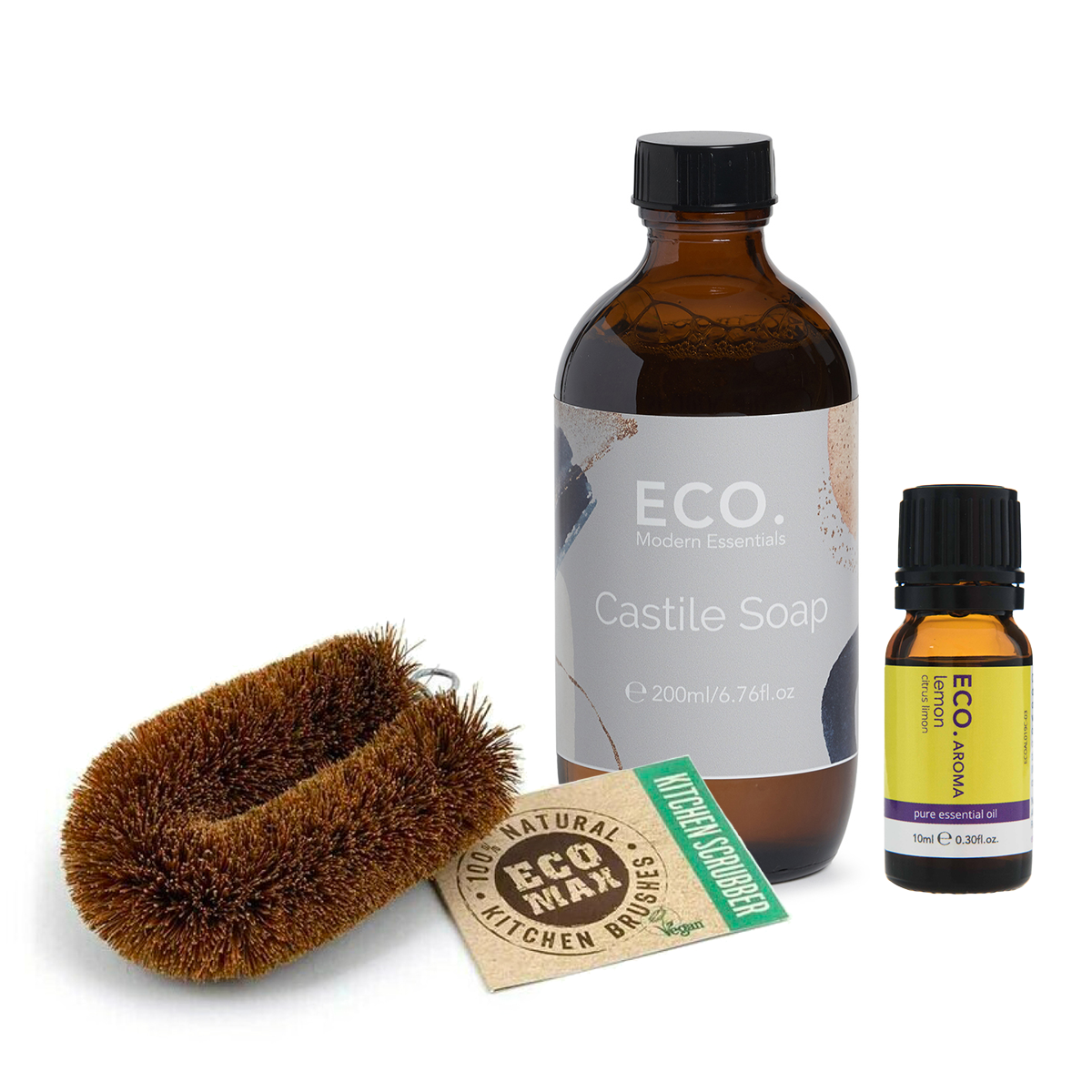 DIY Dishwashing Liquid Bundle
Eco modern essentials
Sustainability practices
We are committed to making a difference in the world by continually improving and adapting our practices in everything we do. Our ingredients are harvested from ethical sources, ensuring social and environmental integrity.
We aim to simplify and minimise our packaging using recycled materials and soy based inks. We strive to work with local suppliers and partners to reduce our carbon footprint and support the local economy. We hope that by inspiring more individuals to appreciate our natural resources, practicing self-care and taking steps to reduce their ecological footprint on this earth, it will help drive change in the world.
Subscribe and save with ECO.
ECO. Oil Club
ECO. Oil Club brings you the team's current favourite aromatherapy essentials every 2 months. Receive up to 5 essential oils including an exclusive blend.
ECO. Ritual Box
Subscribe to the ECO. Ritual Box & you will receive a new box every 3 months (this is 4 times per year).