Bliss Diffuser & Pregnancy Collection
Description

Pregnancy bliss.

A selection of pure essential oils & blends to support every step of your pregnancy journey paired with our beautiful Bliss Diffuser. If not for yourself, this kit will make a beautiful gift. 

Size: 6 x 10ml / 6 x 0.34fl.oz
What's in my kit?

Bliss Diffuser: Designed with purpose and functionality, this ultrasonic mist diffuser features a range of lighting and mist options, allowing you to create the perfect atmosphere in your home. The bamboo base and glass cover gives this diffuser a natural and organic look to complement any living space.

Lavender Essential Oil: A light floral aroma, well known for its relaxing and healing qualities. Lavender is a nerve tonic and is beneficial for times of stress, irritation and sleeplessness.

Frankincense Essential Oil: Frankincense helps to overcome nervous fatigue and silence a busy mind, encouraging us to reflect on the past and seek clear inspiration for the future.

ECO. Little Peaceful Essential Oil Blend: An all-rounder, this soothing blend helps calm the mind, relax the body and promote feelings of peace.

Spearmint Essential Oil: Sweet and refreshing, Spearmint essential oil is a great remedy for digestive discomfort. Coming from the same family as Peppermint essential oil but with a milder scent, Spearmint has uplifting qualities, improving concentration and reducing physical tension.

Mandarin Essential Oil: Gentler then other citrus essential oils, Mandarin helps create a calm space for a peaceful sleep. This essential oil may help quell feelings of irritation, anger and anxiety.

Dream Drops Essential Oil Blend: A restful blend of sedative florals designed to ease a restful night's sleep. This blend combines Lavender, Geranium and Ylang Ylang which will naturally help calm the nervous system and promote a relaxing atmosphere before sleep. Sweet dreams guaranteed.
How to use Bliss Diffuser & Pregnancy Collection

Diffuser: Add 6-8 drops of your chosen essential oil to a diffuser. You can also blend two or multiple oils of your Pregnancy Collection.

Quick fix: A few deep inhalations from the bottle can help when you are at work, in the car or anytime you need a quick break.

Shower: Add 2-3 drops to the corner of the shower and enjoy the benefits of steam inhalation.

Topical: Dilute essential oil to a 1% in rollerballs or massage blends. You can find a dilution chart here.

Learn more about Essential Oils & Pregnancy here and Essential Oils for Labour here.

If you have had difficulties falling pregnant or if you have had a history of complicated pregnancies or miscarriages avoid using essential oils unless you are under the supervision of a qualified practitioner.
Ingredients

Frankincense Essential Oil: Boswellia serrata (Frankincense Oil)

Dream Drops Essential Oil Blend: Lavandula x intermedia (Lavandin Oil) , Lavandula angustifolia (Lavender Oil) , Pelargonium graveolens (Geranium Oil) , Cananga odorata (Ylang Ylang Oil)

Lavender Essential Oil: Lavandula x intermedia (Lavandin Oil) , Lavandula angustifolia (Lavender Oil) , Pelargonium graveolens (Geranium Oil) , Cananga odorata (Ylang Ylang Oil)

Spearmint Essential Oil: Mentha spicata (Spearmint Oil)

ECO. Little Peaceful Blend: Citrus nobilis (Mandarin Oil), Citrus sinensis (Sweet Orange Oil), Boswellia serrata (Frankincense Oil), Santalum spicatum (Sandalwood Oil)

Mandarin Essential Oil: Citrus nobilis (Mandarin Oil)
Frequently asked questions

Why is there conflicting information about the essential oils I can use during pregnancy?
Even amongst very prominent and respected Aromatherapists there are different opinions about the safety of using certain essential oils during pregnancy. Some essential oils are thought to have the effect of promoting menstruation or regulating hormones and although there is no evidence to suggest that these oils would affect a pregnancy we cannot be sure, so for now avoiding these essential oils is prudent. For safe self-care choose essential oils from the list above. Please always seek medical advice for use of essential oils during pregnancy.

Is this safe for use during pregnancy?
Please use these essential oils with care. Essential oils can gently enhance an expectant mothers' journey, both physically and emotionally, during this special time of change in her life. Aromatherapy can be used in all stages of pregnancy from easing morning sickness and aching muscles to labour preparation and support during the delivery. The essential oils in your Pregnancy Collection are considered safe from a qualified Aromatherapist.

Is it normal for my diffuser to spark or glow when I plug it in?
If the cord is already plugged into the wall then hot electricity will be travelling from the outlet to the diffuser, this will cause a rapid draw of power when plugged in which results in a slight glowing around the cord when entering the diffuser outlet. This is normal and comparable to static electricity. If you are experiencing this then we recommend to plug the diffuser outlet in first before plugging the power point into the wall which will resolve the issue.

Is this safe for children?
Essential oils are considered too strong for use on babies' skin (0-24 months) and can be overwhelming on their developing systems. When using in a diffuser, use fewer drops then that for an adult (eg. 2-3 drops). See our ECO. Little range for appropriate, kid-friendly blends. Read more about Aromatherapy for Babies and Children and see our FAQ page for which essential oils to avoid.

Is this safe to use around pets?
Peppermint, Citrus (including Lemon), Eucalyptus & Ylang Ylang essential oils are not recommended for use around pets. See our full list of pet safe oils in our FAQs.

Can I ingest this oil?
Essential oils should not be taken internally unless you have consulted with a health professional or Aromatherapist first.

Visit our FAQ page here to find out more about essential oils for pregnancy & labour.
Shipping information

Shipping Estimates
Standard shipping (4-7 business days)
Express Post (1-2 Business Days)

Orders placed before 12pm AEST Monday-Friday will be shipped same day, orders placed after 12pm will be shipped the next business day.

100% Happiness Guarantee
Not happy? Simply return your products to us within 30 days and we will provide you a refund. Items damaged or faulty? We will arrange a free return and replacement or refund for you. If you have any further questions please don't hesitate to contact our team at enquiries@ecomodernessentials.com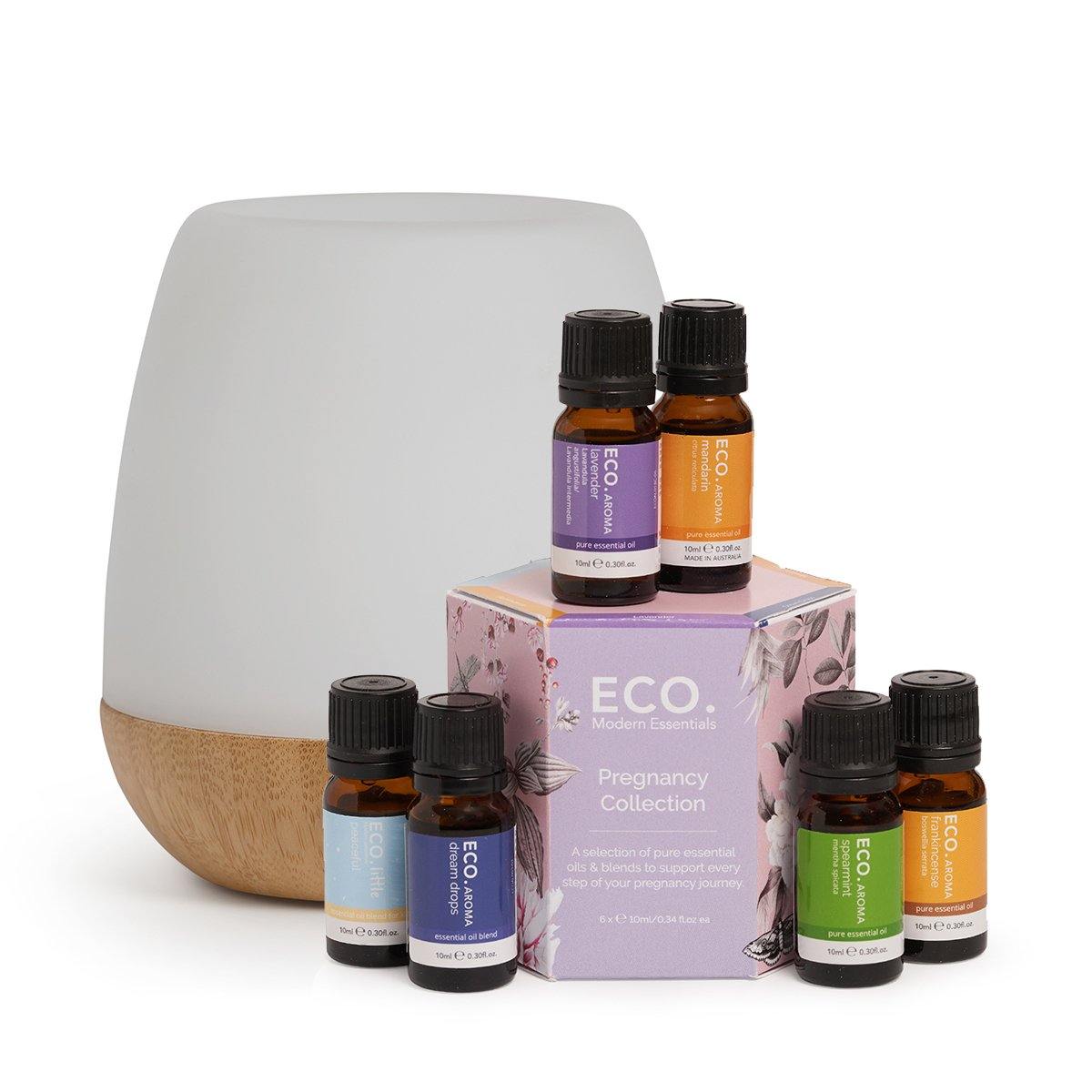 Bliss Diffuser & Pregnancy Collection
Eco modern essentials
Sustainability practices
We are committed to making a difference in the world by continually improving and adapting our practices in everything we do. Our ingredients are harvested from ethical sources, ensuring social and environmental integrity.
We aim to simplify and minimise our packaging using recycled materials and soy based inks. We strive to work with local suppliers and partners to reduce our carbon footprint and support the local economy. We hope that by inspiring more individuals to appreciate our natural resources, practicing self-care and taking steps to reduce their ecological footprint on this earth, it will help drive change in the world.
Subscribe and save with ECO.
ECO. Oil Club
ECO. Oil Club brings you the team's current favourite aromatherapy essentials every 2 months. Receive up to 5 essential oils including an exclusive blend.
ECO. Ritual Box
Subscribe to the ECO. Ritual Box & you will receive a new box every 3 months (this is 4 times per year).