Bathtime Bundle
Description

Bestie's at Bath Time

Get natural at bath time with 2 simple ingredients - Lavender pure essential oil and Dr Bronners Unscented Castile Bar Soap. With many ways to use each ingredient, either together or separately, bath time just got a whole lot more fun for the whole family. 

Includes:
- 1 x Lavender essential oil & Dr Bronner's Unscented Castile Soap Bar

Size: 10ml & 140g / 0.34fl.oz & 5oz

Benefits

Save when you buy in a bundle.

Multiple ways to use.

Natural & eco-friendly.

Safe for the whole family.
What's in my kit?

Lavender Pure Essential Oil: Lavender essential oil gently cools and calms our spirits. A medicine cabinet in a bottle, Lavender oil is a must for the first aid kit. Lavender essential oil is popular for its relaxing and healing qualities and is known to improve sleep and general wellbeing. An important essential oil for skin, Lavender oil has anti-inflammatory, antimicrobial and regenerating properties. Include as part of your sleep rituals to help promote deep rest.

Dr Bronners Unscented Castile Soap Bar: With no added fragrance and double the olive oil, Dr. Bronner's Baby Unscented Pure-Castile Bar Soap is good for sensitive skin & babies too (though not tear-free!). Dr. Bronner's Bar Soap is made with certified fair trade ingredients and organic hemp oil for a soft, smooth lather that won't dry your skin. 100% biodegradable in a 100% post-consumer recycled wrapper.
How to use Bathtime Bundle

Unscented Castile Soap Bar: Use whole to cleanse face, hair, and body. Great for removing makeup or prior to shaving.

Grated Bar Soap: Grate bar soap with a medium-to-fine kitchen grater. Dissolves best in warm to hot water. Add Lavender essential oil to enhance experience.

Soap Cream: Dice bar soap into ½-inch cubes. Soak in 960mL water for 24 hours. Blend in blender on lowest speed to create a foamy gel. Alternatively, grate bar soap and blend with 960mL warm (not steamy) water in blender on lowest speed. Add Lavender essential oil to enhance experience.
Ingredients

Lavender Pure Essential Oil: Lavandula x intermedia, Lavandula angustifolia.

Dr Bronners Unscented Castile Soap Bar: Organic Coconut Oil*, Organic Palm Oil*, Sodium Hydroxide**, Water, Organic Olive Oil*, Organic Hemp Oil, Organic Jojoba Oil, Sea Salt, Citric Acid, Tocopherol


*CERTIFIED FAIR TRADE INGREDIENTS
**None remains after saponifying oils into soap & glycerin.
Frequently asked questions

Is Lavender oil safe during pregnancy?
Use Lavender oil with care, best used in a diffuser or diluted with a carrier oil (1% ratio). Avoid using essential oils during the first trimester unless you are under the supervision of a qualified practitioner. See our full list of pregnancy safe oils in our FAQs.

Is Lavender essential oil safe for children?
Lavender oil is a great essential oil for children to assist with sleep, headaches and anxiety. Essential oils are considered too strong for use on babies' skin (0-24 months) and can be overwhelming on their developing systems. When using in a diffuser, use fewer drops then that for an adult (eg. 2-3 drops). See our ECO. Little range for appropriate, kid-friendly blends. Read more about Aromatherapy for Babies and Children and see our FAQ page for which essential oils to avoid.

Is Lavender oil safe to use around pets?
Use this oil with caution around pets, never use topically and store bottles out of reach. If you have any concerns contact your vet. See our full list of pet safe oils in our FAQs.

Can I ingest Lavender oil?
Essential oils should not be taken internally unless you have consulted with a health professional or Aromatherapist first.
Shipping information

Shipping Estimates
Standard shipping (4-7 business days)
Express Post (1-2 Business Days)

Orders placed before 12pm AEST Monday-Friday will be shipped same day, orders placed after 12pm will be shipped the next business day.

100% Happiness Guarantee
Not happy? Simply return your products to us within 30 days and we will provide you a refund. Items damaged or faulty? We will arrange a free return and replacement or refund for you. If you have any further questions please don't hesitate to contact our team at enquiries@ecomodernessentials.com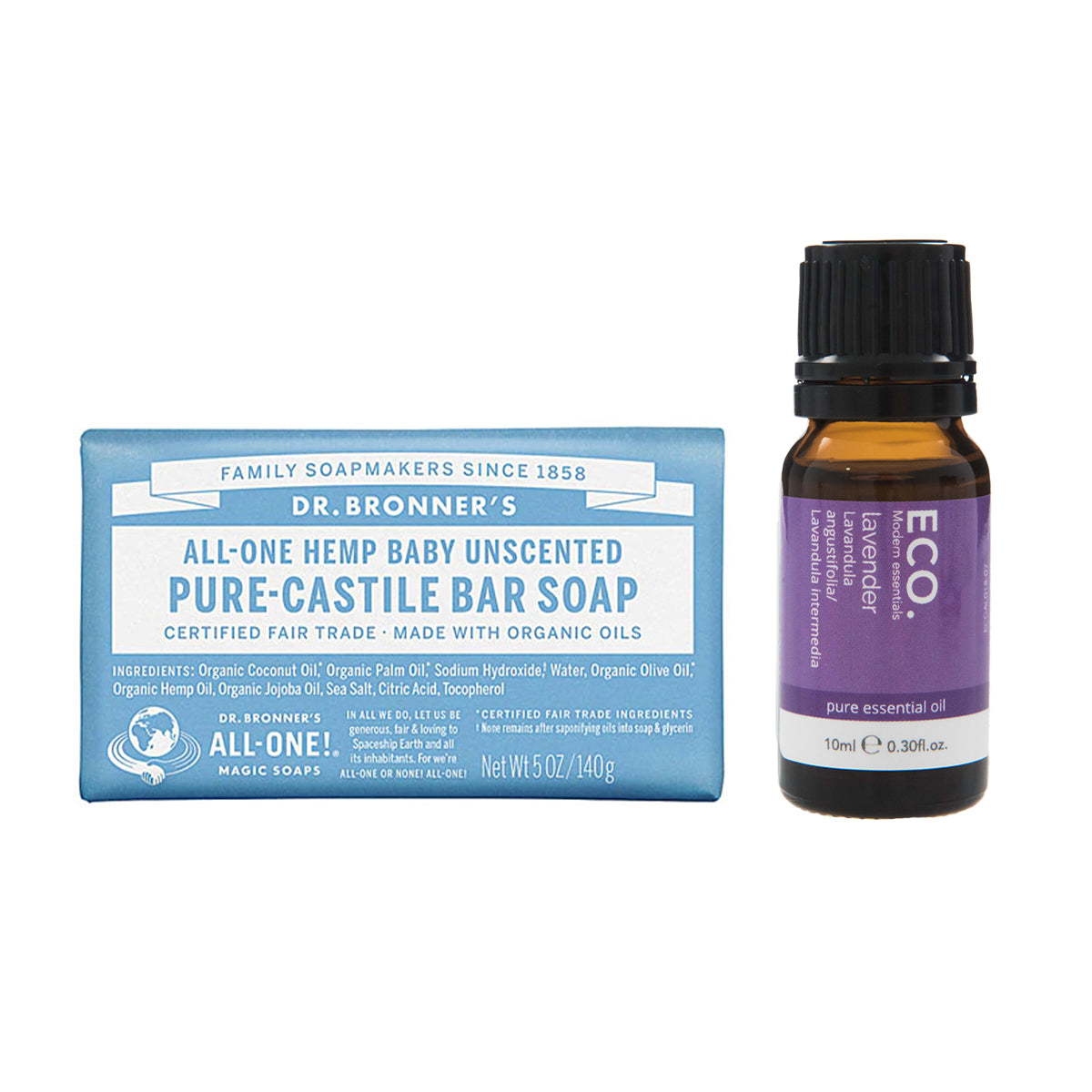 Eco modern essentials
Sustainability practices
We are committed to making a difference in the world by continually improving and adapting our practices in everything we do. Our ingredients are harvested from ethical sources, ensuring social and environmental integrity.
We aim to simplify and minimise our packaging using recycled materials and soy based inks. We strive to work with local suppliers and partners to reduce our carbon footprint and support the local economy. We hope that by inspiring more individuals to appreciate our natural resources, practicing self-care and taking steps to reduce their ecological footprint on this earth, it will help drive change in the world.
Subscribe and save with ECO.
ECO. Oil Club
ECO. Oil Club brings you the team's current favourite aromatherapy essentials every 2 months. Receive up to 5 essential oils including an exclusive blend.
ECO. Ritual Box
Subscribe to the ECO. Ritual Box & you will receive a new box every 3 months (this is 4 times per year).