Aromatherapy for Everyday Wellness Book
Description

Everyday support.

A practical guide to using essential oils in everyday life. Aromatherapy for Everyday Wellness is our second edition book to help you create everyday rituals to support your health and wellbeing.

Table of contents:
Introduction
A-Z Essential Oils
A-Z ECO. Blends
DIY Blends
DIY Recipes
Resources
Benefits

Learn about our essential oils, their benefits and how to incorporate them into your life.

Create your own therapeutic, atmospheric & topical blends to support your lifestyle.

Transition your home to a chemical-free sanctuary by creating your own products with our DIY recipes.
Specifications

Published: October
ISBN: 978-0-6487064-2-7
ISBN: 978-0-6487064-3-4 (ebook)
Number of Pages: 233
Author: Alissa Geddes
Frequently asked questions

What are the differences between the two ECO. books?
We have kept some core content around individual essential oils with extra information added. We have over 140 new DIY recipes in the 2nd edition as well as further resources, safety information & in depth content on our essential oil blends including the ECO. Little range.

How does the E-Book work?
Once you purchase the E-Book, you will be taken through our regular checkout process. Once your order has been processed, you will receive an email with a link to download the E-Book.

Do I need a special app to use the E-Book?
The E-Book is suitable for all IOS devices (Apple, iPad, MAC, iPhone) and Android devices (Google play, Kobo reader, Vital Source Bookshelf, etc). To open the E-Book, you will need to use the reader software of your device. Note: all software are compatible except ReadEra.

Once I purchase the E-Book, will I be able to keep it forever?
Yes. Once you download your E-Book, its will remain yours. You can access the saved file on your device at any time or via the download link.

Is the E-Book refundable?
Unfortunately, once you purchase an E-Book, you will be sent the download link automatically and we cannot proceed to a refund.
Shipping information

Shipping Estimates
Standard shipping (4-7 business days)
Express Post (1-2 Business Days)

Orders placed before 12pm AEST Monday-Friday will be shipped same day, orders placed after 12pm will be shipped the next business day.

100% Happiness Guarantee
Not happy? Simply return your products to us within 30 days and we will provide you a refund. Items damaged or faulty? We will arrange a free return and replacement or refund for you. If you have any further questions please don't hesitate to contact our team at enquiries@ecomodernessentials.com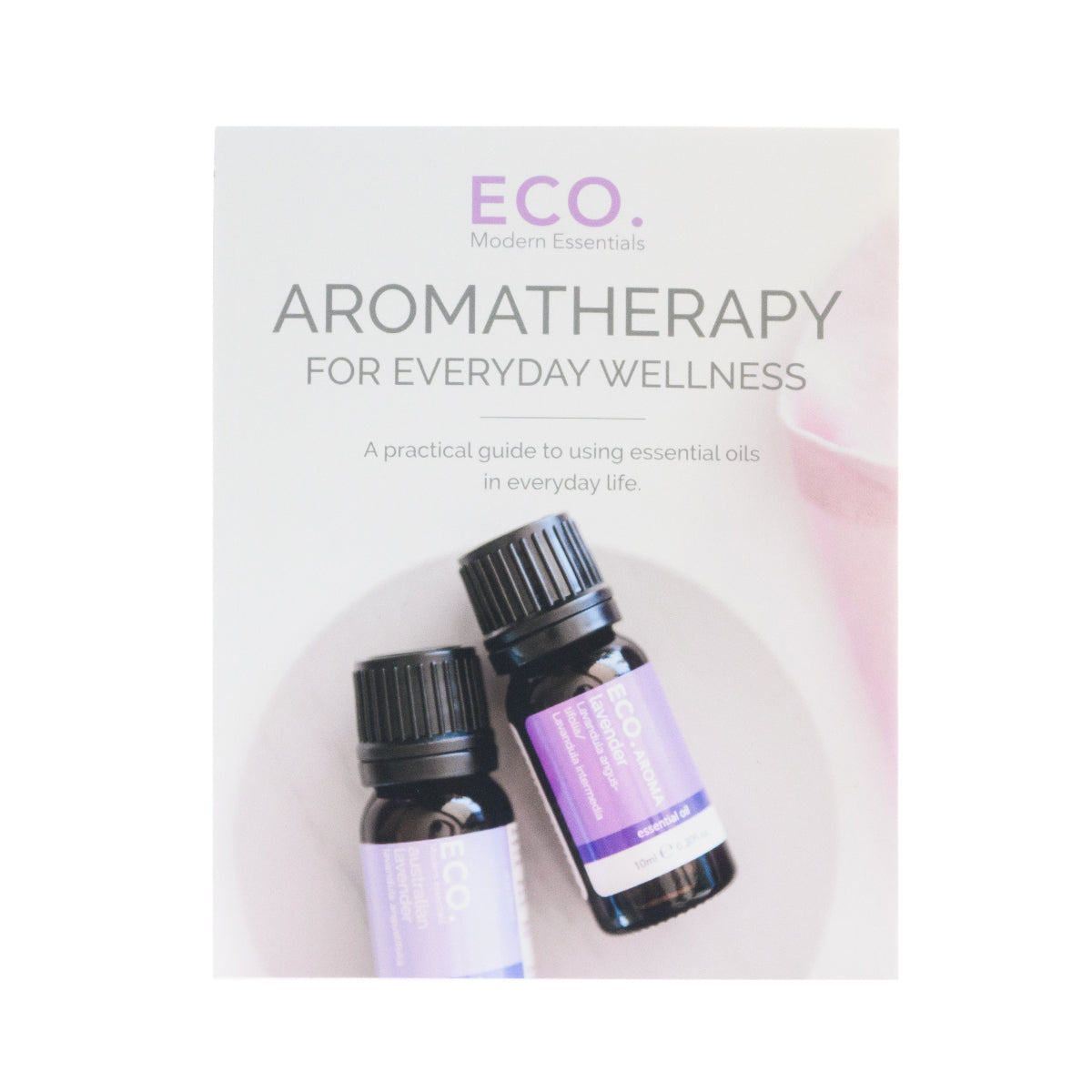 Aromatherapy for Everyday Wellness Book
Eco modern essentials
Sustainability practices
We are committed to making a difference in the world by continually improving and adapting our practices in everything we do. Our ingredients are harvested from ethical sources, ensuring social and environmental integrity.
We aim to simplify and minimise our packaging using recycled materials and soy based inks. We strive to work with local suppliers and partners to reduce our carbon footprint and support the local economy. We hope that by inspiring more individuals to appreciate our natural resources, practicing self-care and taking steps to reduce their ecological footprint on this earth, it will help drive change in the world.
Subscribe and save with ECO.
ECO. Oil Club
ECO. Oil Club brings you the team's current favourite aromatherapy essentials every 2 months. Receive up to 5 essential oils including an exclusive blend.
ECO. Ritual Box
Subscribe to the ECO. Ritual Box & you will receive a new box every 3 months (this is 4 times per year).