Vegan Wax Wraps
Description

ECO. x Honeybee Wrap.

We have teamed up with Honeybee Wrap to bring our very own Vegan Wax Wraps. You will no longer need plastic wrap! Great for covering bowls, containers or storing all types of foods. Our wax food covers come with a small, medium and large size for all your needs.

*please note, due to the wax itself, the wraps may vary in colour.

Size: 1 x Large (34 x 35cm), 1 x Medium (26.5 x 30cm), 1 x Small (17.5 x 20cm).
Benefits

Reusable.

Vegan.

Waste-free.

Non-toxic.

Sustainable storage.

Care instructions

Simply wipe over your vegan wax wraps with cool, soapy water. Sponge, rinse and hang to dry.
How to use Vegan Wax Wraps

Use the warmth of your hands to shape and mould your vegan wax wraps over food and dishes. Avoid heat, raw meats and seafood. Wraps will last up to 12 months following simple care steps.
Ingredients

Candela Wax, Tree Gum Resin, Jojoba Oil, Coconut Oil, Organic Cotton.
Frequently asked questions

Do the Vegan Wax Wraps stick well to containers?
Yes! They are incredible and stick really well to containers.

How do I clean my Vegan Wax Wraps?
Please see our care instructions listed above.

How long will my Vegan Wax Wraps last?
They should last up to 12 months if care instructions are followed.
Shipping information

Shipping Estimates
Standard shipping (4-7 business days)
Express Post (1-2 Business Days)

Orders placed before 12pm AEST Monday-Friday will be shipped same day, orders placed after 12pm will be shipped the next business day.

100% Happiness Guarantee
Not happy? Simply return your products to us within 30 days and we will provide you a refund. Items damaged or faulty? We will arrange a free return and replacement or refund for you. If you have any further questions please don't hesitate to contact our team at enquiries@ecomodernessentials.com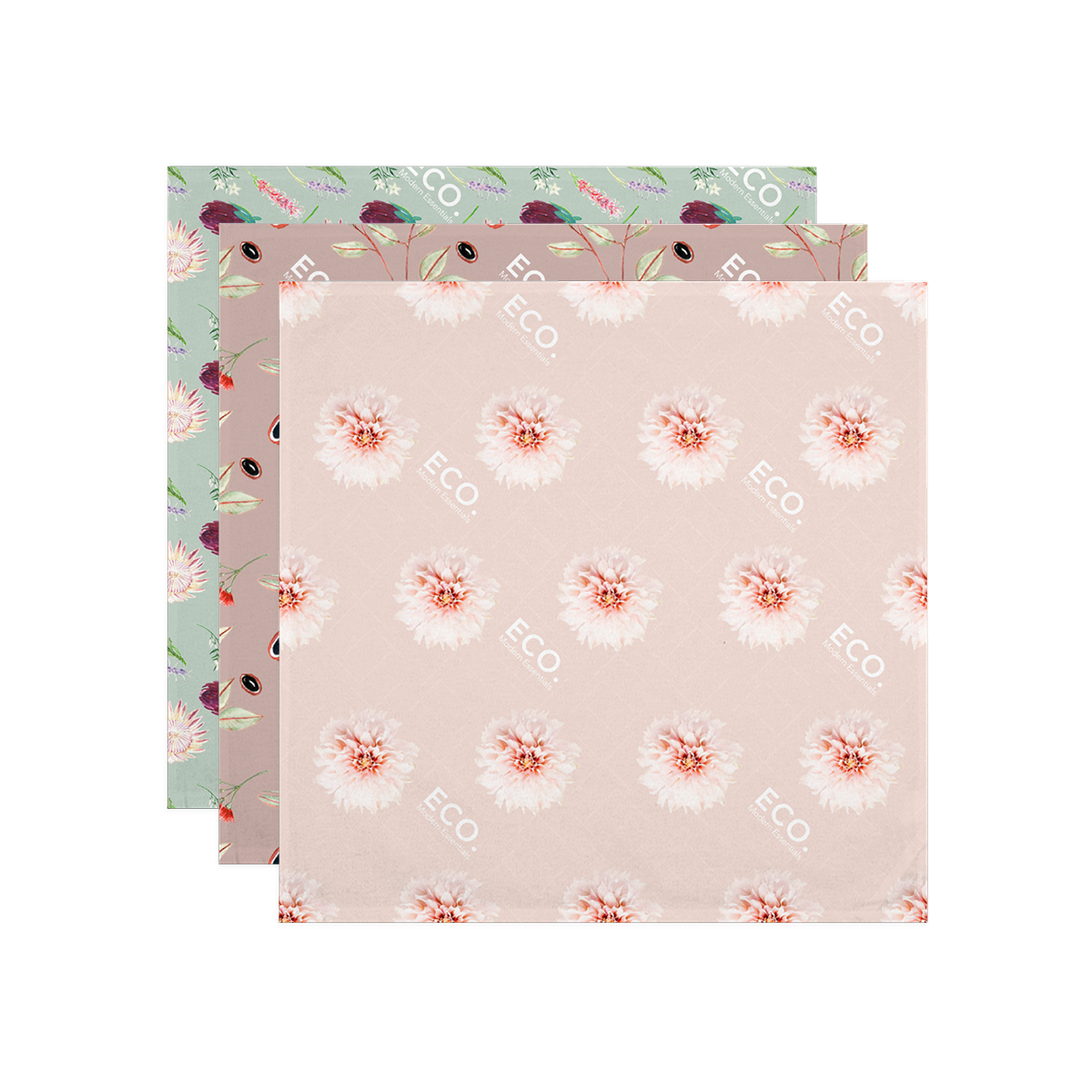 Eco modern essentials
Sustainability practices
We are committed to making a difference in the world by continually improving and adapting our practices in everything we do. Our ingredients are harvested from ethical sources, ensuring social and environmental integrity.
We aim to simplify and minimise our packaging using recycled materials and soy based inks. We strive to work with local suppliers and partners to reduce our carbon footprint and support the local economy. We hope that by inspiring more individuals to appreciate our natural resources, practicing self-care and taking steps to reduce their ecological footprint on this earth, it will help drive change in the world.
Subscribe and save with ECO.
ECO. Oil Club
ECO. Oil Club brings you the team's current favourite aromatherapy essentials every 2 months. Receive up to 5 essential oils including an exclusive blend.
ECO. Ritual Box
Subscribe to the ECO. Ritual Box & you will receive a new box every 3 months (this is 4 times per year).