Sweet Dreams Bundle
Description

Sweet dreams anywhere.

The Sweet Dreams Bundle - your ultimate solution for a peaceful and restful sleep anytime, anywhere. This bundle includes our Cordless Travel Diffuser and three premium essential oil blends that are specifically formulated to help you with stress, sleep, and relaxation. The Sweet Dreams Bundle is the perfect gift for anyone who struggles with sleep or wants to add more relaxation to their daily routine. Get yours today and experience the power of natural aromatherapy for a better night's sleep and a more peaceful life.

Includes:
- Gift Box, Cordless Travel Diffuser, Anxiety Blend, Dream Drops Blend, Sleep Blend.


Size: 3 x 10ml / 3 x 0.34fl.oz

Benefits

Save when you buy in a bundle.

Three essential oils blended to help with relaxation and sleep.

No water required.

Rechargeable.

3 mist settings.

3 timer modes.

Suitable for 5ml, 10ml & 15ml essential oil bottles.
What's in my kit?

Cordless Travel Diffuser: Enjoy your favourite essential oils while on the go. With a simplistic and sleek design, the Cordless Travel Diffuser makes taking aromatherapy with you simple. Whether it's for easy mobility around the home, travelling in the car, camping or keeping in your handbag, this rechargeable diffuser is a must-have.


Dream Drops Essential Oil Blend: A restful blend of sedative florals designed to ease a restful night's sleep. This blend will naturally help calm the nervous system and promote a relaxing atmosphere before sleep. Sweet dreams guaranteed.

Anxiety Essential Oil Blend: Combining Sweet Orange, Lavender, Ylang Ylang and Frankincense essential oils, ECO. Anxiety Blend has been developed to reduce nervous tension and relieve symptoms of mild anxiety. The sweet and soothing aroma will help calm your mind, relax your body and increase vitality.

Sleep Essential Oil Blend: Be soothed to sleep with this beautiful combination of sedative essential oils. This blend has been formulated to release body tension and calm the mind to encourage a quality sleep.
How to use Sweet Dreams Bundle

Installation of the bottle:
1. Remove the bottle by pushing from the bottom of the diffuser.
2. Remove the plastic dripulator from the essential oil bottle if present and screw the bottle into the spray head. Ensure it is secure but not too tight.
3. Place the screw head back into the diffuser until the surface is at the same level and align the two triangles on the top of the diffuser.
4. The diffuser should be at full charge when using for the first time. Full charge will take 3-4 hours.
5. After fitting, do not tilt or tip the diffuser upside down.

Diffuser operation:
1. Long press on the power button to turn the diffuser on and off.
2. Short press power button to choose the different timers.
15sec: Spray 15 seconds and stop 165 seconds
60sec: Spray 60 seconds and stop 120 seconds
120sec: Spray 120 seconds and stop 60 seconds



Please note;
No light on the seconds times indicates continuous working mode. The Cordless Travel Diffuser must always have a bottle installed to ensure the base has something to be able to push out otherwise this will become stuck. We recommend keeping your empty bottle that comes with the device.
Ingredients

Dream Drops Essential Oil Blend: Lavandula x intermedia, Lavandula angustifolia, Pelargonium graveolens, Cananga odorata.

Anxiety Essential Oil Blend: Active ingredients: Citrus sinensis fruit peel essential oil 740 uL/mL, Lavandula angustifolia herb top flowering essential oil 200 uL/mL, Cananga odorata flower essential oil 40 uL/mL, Boswellia serrata gum essential oil 20 uL/mL

Sleep Essential Oil Blend: Citrus reticulata blanco, Lavandula x intermedia, Boswellia serrata, Lavandula angustifolia, Cananga odorata, Anthemis nobilis.
Frequently asked questions

Does this product have a warranty?
Yes all ECO. Accessories have a 12 month warranty. We will not replace or refund Cordless Travel Diffusers which have been damaged by the use of viscous essential oils.

Does this fit into car cup holders?
Yes! From what we have tested however please be aware these can vary so we can't 100% guarantee.

How long will a bottle last in the Cordless Travel Diffuser?
This can vary depending on which essential oil you are using in your Cordless Travel Diffuser, it will also vary depending on how often you use your Cordless Travel Diffuser. For a guide, we have used the Cordless Travel Diffuser on the 15second intermittent setting for 2 hours, once a day and have found an essential oil will last approximately 2-3 months. This is a guide only and may vary due to the above mentioned.

What is the difference between a nebulizing diffuser and a Mist Diffuser?
Nebulizing diffusers do not use heat or water, they work by atomising the essential oils into fine particles. Nebulizing diffusers use a larger amount of essential oil for a shorter running time. However, the concentration of essential oils released into the air is much stronger. It is best to avoid using viscous oils originating from roots and trees in the Nebulizer as they might cause clogging. Nebulizing diffusers are best suited for large spaces due to the high concentration of essential oils.

Which essential oils can I use in my Cordless Travel Diffuser?
Avoid using essential oils extracted from woods and roots of plants as they are much thicker and will clog the Nebulizer. Avoid using Fennel, Cedarwood, Clove Bud, Cinnamon, Frankincense, Jasmine 3%, Neroli 3%, Patchouli, Rose 3%, Sandalwood 10%, Pine, Vetiver. All other ECO. essential oils are fine to use.

How often should I clean the diffuser?
We recommend cleaning the Cordless Travel Diffuser with a wet cloth after a few uses or each time you change essential oils. Refer to the instruction manual for more details.

Is the Cordless Travel Diffuser noisey?
For the diffuser to atomise the essential oils it needs to vibrate which in result has been referred to having a quiet humming noise.

Is this safe for use during pregnancy?

Avoid using essential oils during the first trimester unless you are under the supervision of a qualified practitioner. See our full list of pregnancy safe oils in our FAQs.

Is this safe for children?

Essential oils are considered too strong for use on babies' skin (0-24 months) and can be overwhelming on their developing systems. When using in a diffuser, use fewer drops then that for an adult (eg. 2-3 drops). See our ECO. Little range for appropriate, kid-friendly blends. Read more about Aromatherapy for Babies and Children and see our FAQ page for which essential oils to avoid.

Is this safe to use around pets?

Citrus (including Lemon) & Ylang Ylang essential oils are not recommended for use around pets. See our full list of pet safe oils in our FAQs.

Can I ingest this oil?

Essential oils should not be taken internally unless you have consulted with a health professional or Aromatherapist first.
Shipping information

Shipping Estimates
Standard shipping (4-7 business days)
Express Post (1-2 Business Days)

Orders placed before 12pm AEST Monday-Friday will be shipped same day, orders placed after 12pm will be shipped the next business day.

100% Happiness Guarantee
Not happy? Simply return your products to us within 30 days and we will provide you a refund. Items damaged or faulty? We will arrange a free return and replacement or refund for you. If you have any further questions please don't hesitate to contact our team at enquiries@ecomodernessentials.com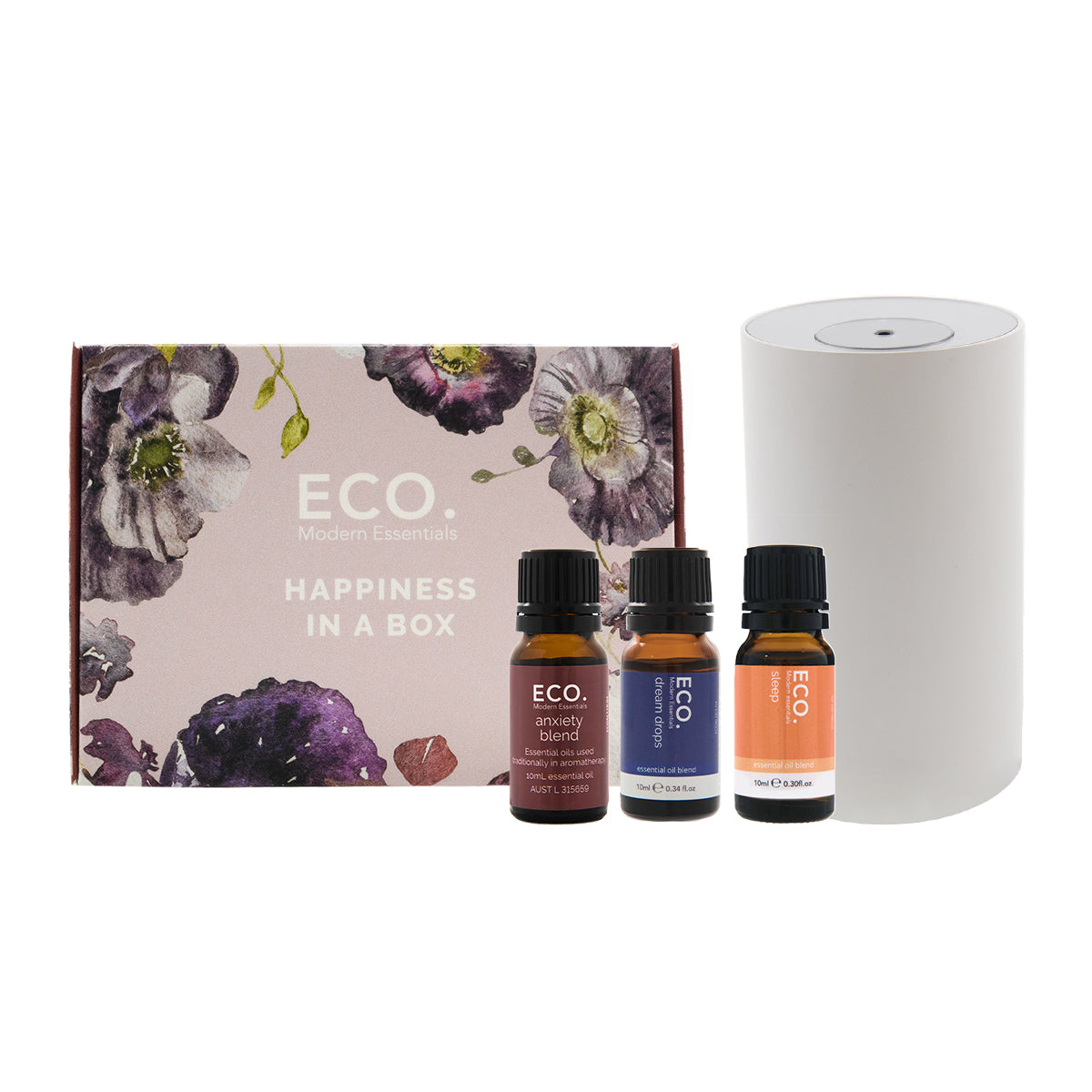 Eco modern essentials
Sustainability practices
We are committed to making a difference in the world by continually improving and adapting our practices in everything we do. Our ingredients are harvested from ethical sources, ensuring social and environmental integrity.
We aim to simplify and minimise our packaging using recycled materials and soy based inks. We strive to work with local suppliers and partners to reduce our carbon footprint and support the local economy. We hope that by inspiring more individuals to appreciate our natural resources, practicing self-care and taking steps to reduce their ecological footprint on this earth, it will help drive change in the world.
Subscribe and save with ECO.
ECO. Oil Club
ECO. Oil Club brings you the team's current favourite aromatherapy essentials every 2 months. Receive up to 5 essential oils including an exclusive blend.
ECO. Ritual Box
Subscribe to the ECO. Ritual Box & you will receive a new box every 3 months (this is 4 times per year).