Siberian Fir Needle Essential Oil
Description

The answer to your stress.

Like a stroll through a pine-forest, Siberian Fir Needle pure essential oil is refreshing with its prickly, woody scent and is known for its calming and grounding properties. It helps us navigate stressful emotions and may soothe underlying anxiousness. As well as its emotional healing benefits, Siberian Fir Needle benefits the skin providing a beautiful massage oil after demanding activities.

Size: 10ml / 0.34fl.oz
Benefits

Calming & grounding.

Helpful for focus .

May help stress and anxiety symptoms.

Refreshing & clarifying.
Learn more about Siberian Fir Needle essential oil

You may have seen essential oils from a few different types of Fir trees such as Douglas Fir or White Fir. Different species of Fir essential oils have similar actions, although their fragrances are unique, this is due the the chemical make-up of each essential oil, the chemical compounds are similar, just in different proportions. Typically, Abies sibirica essential oil is rich in;



Bornyl acetate – gives the familiar pine scent to the essential oil and is an analgesic and anti-inflammatory.

Camphene - has anti-inflammatory, analgesic, antibiotic and antifungal properties.

Alpha-pinene - also an anti-inflammatory and analgesic and has been shown to help open the airways with a bronchodilation action.



Lungs/ Respiratory: Fir essential oil is an expectorant which thins excess mucous making it easier to clear out of the lungs. May be useful for coughs, sinusitis and other lung infections.




After exercise: With pain reducing and anti-inflammatory properties, Fir essential oil is a perfect addition to your post exercise massage blend. Great for massaging into tired legs and feet after a long day at work.




Arthritic pain: An arthritic flair-up can cause localised pain and sweeling. Massage diluted essential oil into sore, stiff joints and surrounding muscles.




Foggy brain: Fir has a lovely crisp fragrance tht encourages mental clarity. Useful in the diffuser at work or for study, Fir helps cut through the fog of a tired and overtaxed mind.




Calming: Fir Needle is through to be a tonic for the nervous system and may be useful to ease stress and calm an anxious spirit. Not always the first essential oil that comes to mind as a treatment for stress, Fir Needle offers an alternative to the familiar Lavender, Mandarin or Chamomile.
How to use Siberian Fir Needle Essential Oil

Diffuser: Add 6-8 drops of your essential oil to a diffuser.

Shower: Add 2 drops to the corner of the shower and let the aroma envelop you.

Quick fix: A few deep inhalations from the bottle can help when you are at work, in the car or anytime you need a quick break.

Massage: Add 1-2 drops of essential oil to 5ml of the carrier oil and massage into areas of concern after strenuous exercise.
Ingredients

Abies sibirica (Fir Needle Oil)
Frequently asked questions

Is this safe for use during pregnancy?

Use this oil with care, best used in a diffuser or diluted with a carrier oil (1% ratio). Avoid using essential oils during the first trimester unless you are under the supervision of a qualified practitioner.

Is this safe for children?

Essential oils are considered too strong for use on babies' skin (0-24 months) and can be overwhelming on their developing systems. When using in a diffuser, use fewer drops then that for an adult (eg. 2-3 drops). See our ECO. Little range for appropriate, kid-friendly blends. Read more about Aromatherapy for Babies and Children and see our FAQ page for which essential oils to avoid.

Is this safe to use around pets?

Peppermint, Citrus (including Lemon), Eucalyptus & Ylang Ylang essential oils are not recommended for use around pets. See our full list of pet safe oils in our FAQs.

Can I ingest this oil?

Essential oils should not be taken internally unless you have consulted with a health professional or Aromatherapist first.
Shipping information

Shipping Estimates
Standard shipping (4-7 business days)
Express Post (1-2 Business Days)

Orders placed before 12pm AEST Monday-Friday will be shipped same day, orders placed after 12pm will be shipped the next business day.

100% Happiness Guarantee
Not happy? Simply return your products to us within 30 days and we will provide you a refund. Items damaged or faulty? We will arrange a free return and replacement or refund for you. If you have any further questions please don't hesitate to contact our team at enquiries@ecomodernessentials.com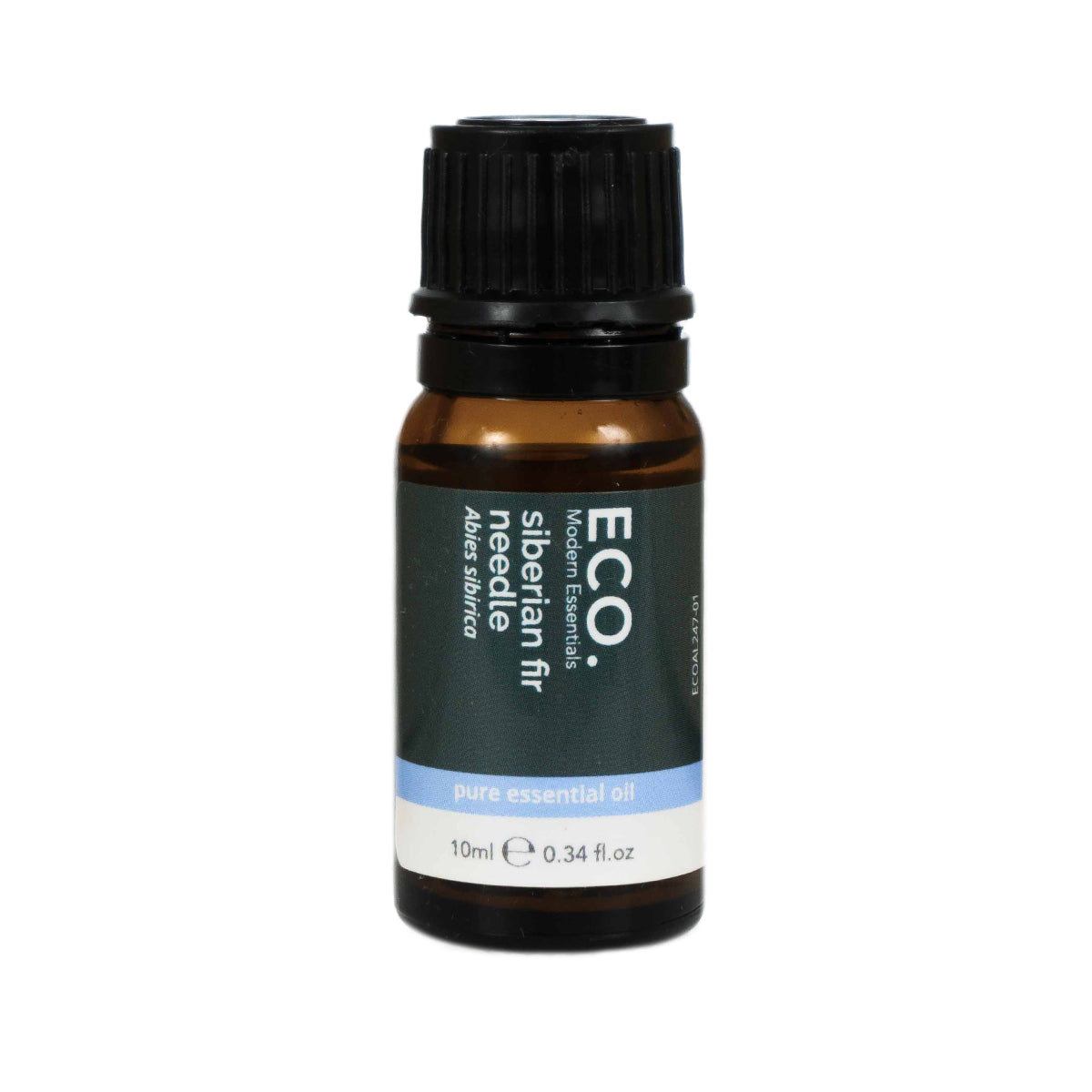 Siberian Fir Needle Essential Oil
Eco modern essentials
Sustainability practices
We are committed to making a difference in the world by continually improving and adapting our practices in everything we do. Our ingredients are harvested from ethical sources, ensuring social and environmental integrity.
We aim to simplify and minimise our packaging using recycled materials and soy based inks. We strive to work with local suppliers and partners to reduce our carbon footprint and support the local economy. We hope that by inspiring more individuals to appreciate our natural resources, practicing self-care and taking steps to reduce their ecological footprint on this earth, it will help drive change in the world.
Subscribe and save with ECO.
ECO. Oil Club
ECO. Oil Club brings you the team's current favourite aromatherapy essentials every 2 months. Receive up to 5 essential oils including an exclusive blend.
ECO. Ritual Box
Subscribe to the ECO. Ritual Box & you will receive a new box every 3 months (this is 4 times per year).